Into Paris, cupcakes fall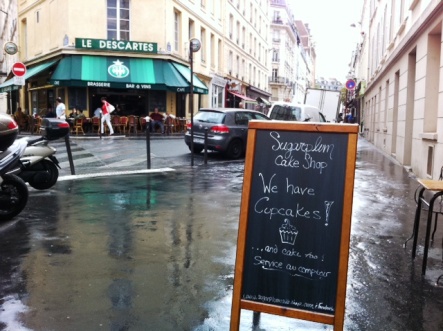 The last time it rained, I had just visited Omaha Beach, where in June 1944 a ferocious gale almost thwarted the biggest amphibious military operation of all time -- the Allied surge into Hitler-occupied France. So when a few drops became a sprinkle, became a shower, sending me scurrying under an awning for an early cocktail hour after a long bike ride, I asked the waiter if we were in for it. "Is the rain going to continue?" I stumbled in my minimal French. He waved his hand. "Oh, no," he said, "It will be quick."The rain stopped and started a few times. Long enough to finish a glass but not long enough to have to buy an umbrella. Carrying my lunch-box size luggage, not only did I not want to own another umbrella, but at current exchange rates, here in France, I certainly didn't want to buy one.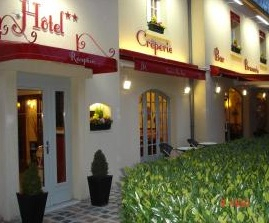 At .70 Euros to the dollar, the prices make sense on their own terms -- if you think of the Euro as a dollar. But then you do the currency exchange. And weep.
My first simple (I mean simple) hotel room in Normandy was 68 Euro ($100) -- high season prices. The next night -- a little room over a cafe (ok, a bar) with a shower down the hall was 48 Euro ($75). I asked if I could borrow a hair dryer. Rent one? Nope. My cousin from New York laughed at those prices, because a small room in the 7th arondissement in Paris costs $500 a night. (I'm a guest, thank you, dear cousin.) A can of soda costs $3, and a cappuccino runs about $5, at least.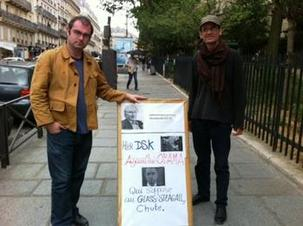 I could probably save money on latte by going to McDonald's McCafe. All the American brands, even in Paris and London, do quite well, thank you. But if you ask Parisians Benjamin Bak and Clement Satger, some of our other trans-Atlantic economic habits follow a more toxic plot line than "Supersize Me." These two gents were standing in the University district yesterday in the 5th helping passers by understand the financially corrosive policies of the IMF under Dominique Strauss-Kahn, and how he and President Obama, with their programs, have helped to wreck the global financial system by soaking the citizenry to keep "too big to fail" banks alive while economies on both sides of the Atlantic wither. As we spoke, another summer shower sprinkled us like flowers. Followers of Lyndon LaRouche, the two earnest young men quickly folded their sign and card table and scampered under a tree. I followed them. It so happens, intellectual heavyweights like iconic former Federal Reserve Chairman Paul Volker and former FDIC Chairman Bill Isaac agree on this point -- that global financial regulation has run amok, and that a return to Glass-Steagall, the set of laws that kept ordinary deposits safely away from the gambling tables of credit default swaps and other sophisticated crap shoots -- is needed now more than ever. "Too big has failed," is how Kansas City Fed Chairman Thomas Hoenig put it. As the rain glazed the streets with a shiny new coat, I asked the young men if they were liberal or conservative. "We're Rooseveltian!" they smiled hopefully.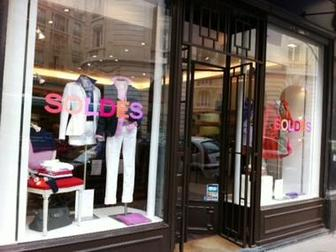 Down the street, markets and stalls beckoned, with glorious jewelry, shoes and clothes. A sign in English advertised "cupcakes!" at price points, post-currency exchange, above $6. Don't ask about the shoes. Into each life, they say, a little rain must fall. In summer in Paris, it will probably evaporate by the time you get to the next cupcake stand.
And a good glass of red wine will still only set you back three bucks.