Parents upset by "sex test" at Hardy Middle School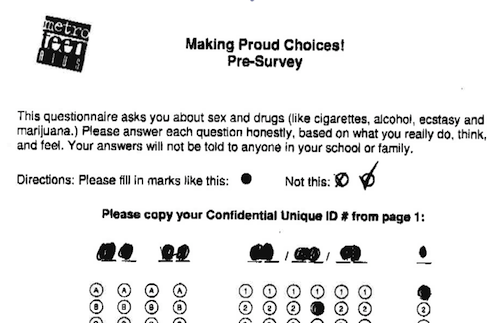 When she picked up her 12-year-old son at Hardy Middle School last Tuesday afternoon, "Susan" knew something was wrong. Her son looked "disturbed," his father said later. Susan asked her son what had happened at school. A test had been given in a health/physical education class filled with 7th-grade boys and girls. One classmate called it a "sex test." "What is your gender?" was the first question. The choice of answers: a) Male b) Female c) Transgender (M to F) d) Transgender (F to M) The 12-year-old was slightly bewildered. He noticed other children seemed confused. The questions became more graphic: "How sure are you that you.... ...Can name all four body fluids that can transmit HIV. ...Know the difference between oral, vaginal, and anal sex. ...Can correctly put a condom on yourself or your partner. ...Will avoid getting yourself or your partner pregnant if you have sex. ...Can convince a reluctant partner to use barrier protection (i.e. condoms, dental dams) during sex." The 12-year-old, even more confused, asked an instructor about some of the terms. "What is this? I don't know what this is," he told the facilitator. Children ventured guesses as the instructor -- brought in on a DCPS contract -- started to define "anal sex" and "oral sex." Susan (not her real name) called her husband at the office. She was practically in tears. He was outraged. Other parents heard about the "sex test" from their kids. "The school is making us take a sex survey," one child told his mother. Whatever the intent of the program, neither Susan nor her husband had given informed consent allowing their son to be part of a program that went far beyond how they would have handled instruction in the mechanics, responsibilities, ethics and moral behavior of sexual activity of their 12-year-old. Also of considerable concern, they had not been informed that, nor had they been asked for consent for their son to be involved in a pre- and post-program evaluation probing his response to questions about sexual practices and illegal drug use. As far as Susan and her husband were concerned, the program came out of nowhere and was totally inappropriate for their child. When they demanded an explanation, their strong feelings were at first brushed off by school administrators, who told them that the survey had been administered following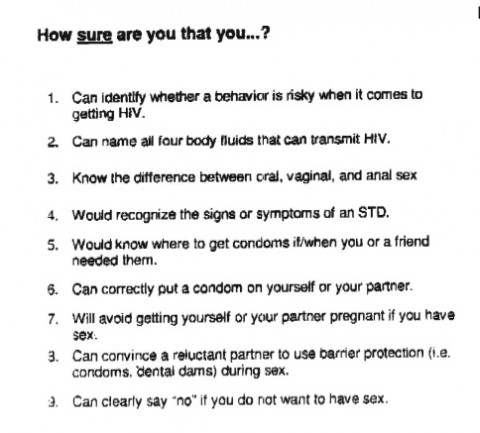 normal procedures. Meanwhile, upset parents called, texted and e-mailed each other to try to understand what had happened. One child was so upset by the test, a parent told The Georgetown Dish, he hyperventilated. How was the sex survey launched at Hardy with so little vetting and how was it determined that it was appropriate for a 12-year-old? In the spring of 2008, Schools Chancellor Michelle Rhee touted a new program in her FY09 budget for DCPS children that she promoted along with extracurriculars like music and Model United Nations programs. "Model Schools will support expanded extracurricular programs such as athletics, the DC Youth Orchestra, the Hispanic Youth Symposium, Metro Teen AIDS, the Model UN and others," her testimony stated. Metro TeenAIDS, a nonprofit aimed at educating children about HIV/AIDS, received a $15,000 consulting contract and $80,000 contract from DCPS in 2009 to provide programming in the schools, as well as over $750,000 in federal funding in recent years, according to FedSpending.org, a program of OMB Watch. According to a 2009 introductory letter from Metro TeenAIDS addressed to parents, "Your child is part of a program offered by DC Public Schools in partnership with Metro TeenAIDS and City Year DC called Making Proud Choices!" The letter went on, "This program has been selected by DCPS for instruction to meet [health learning standards] for the middle school grades and is used in 7th and 8th health classes (sic) throughout DCPS."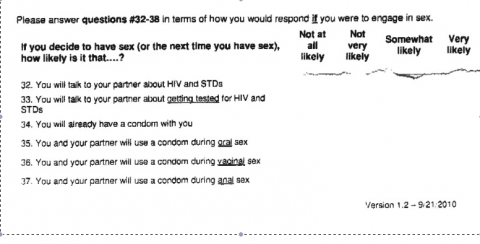 The program was not just for education, but for research. The letter notified parents that, by participating in the program, their child would be a "research subject" in a program funded by the federal government. The Substance Abuse and Mental Health Services Administration of the U.S. Department of Health and Human Services, along with "Metro TeenAIDS, and City Year would like to gather information from the students and would like your child to participate." The letter warned parents that the survey questions "may make your child feel uncomfortable" or have "an emotional reaction." The letter informed parents that they could have their child "opt-out" of the evaluation or the program itself. But parents never received these warnings before the "sex test" was administered Tuesday at Hardy. Only after parents demanded a meeting with Principal Dana Nerenberg and other officials were they given a copy of the actual test, two days after it was administered to 7th-graders at Hardy. As they reviewed the subject matter and the vocabulary of the survey, the parents grew even more outraged. "During your life, with how many peopled have you had sex (oral, vaginal, anal)?" "In the past 30 days on how many days did you... ...Have 5 or more drinks of alcohol in a row, or within a couple of hours? ...Use marijuana? ...Use other non-injecting drugs (like cocaine, PCP, ecstasy)? ...Inject drugs with a needle like heroin)? ...Have sex? ...Have sex after drinking alcohol or getting high?" Metro TeenAIDS' letter to parents, which was distributed to the children during the class in which they took the sex survey, said that due to the sensitive and potentially incriminating information being gathered from the students, "The questionnaire is confidential -- no one will be able to match your child with the answers that he/she provides." Yet, when a parent demanded that her child's test form be returned, Metro TeenAIDS officials identified the correct child's test and returned it to his parents, despite the organization's guarantee of anonymity.

Calls and e-mails to Metro TeenAIDS and the press office of Schools Chancellor Michelle Rhee were not returned. Next: A closer look at this program of Rhee's education reform, its loose interpretation of D.C. health and human research standards, and DCPS' failure to get informed consent for testing of minors.