Parents at Hyde-Addison Call for Details on Project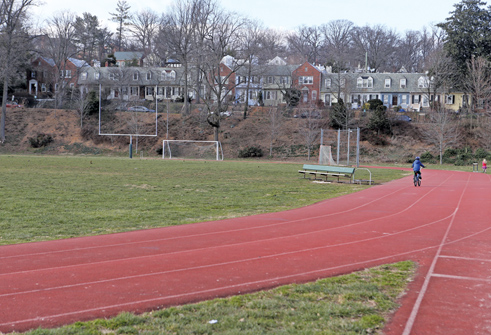 By Mark LiebermanCurrent Staff Writer
With summer break and fall enrollment deadlines looming, parents in the Hyde-Addison Elementary School community are calling for more information about the status of their modernization project and swing space options, though they remain divided on the best path forward.
Following several postponements, D.C. Public Schools will host a community meeting with updates at 9 a.m. Friday at Hyde-Addison, 3210 O St. NW.
Several parents told The Current they're willing to hear the city out if it means seeing the long-awaited renovation move forward. Others said they're prepared to move their students out of their neighborhood school because they simply don't know enough about the city's plans for Hyde-Addison in the near future. A few parents even want to see the project delayed, given the small amount of planning time between now and the start of construction.
Renovation plans have been in the works for Hyde-Addison for five years, with construction on a new addition and playground area and the relocation of a 4-foot sewer and drain pipe originally set to begin this month. But in December, D.C. Public Schools and the Department of General Services announced that construction would be delayed until this June because the students would have to be relocated for up to two full school years. The agencies had previously told the community that relocation would not be necessary.
More than 120 parents have sent letters to various city officials urging an assured construction start date in June, an "optimal" swing space location such as Ellington Field, and a promise to avoid last-minute design cuts or changes, according to parent and Hyde School Improvement Team member Christine Churchill.
In a written statement to The Current, Ward 2 D.C. Council member Jack Evans said he has urged city officials to cement their plans for Hyde-Addison and inform the community promptly.
"I've spoken with the Mayor and Chancellor multiple times to advocate for modernizing Hyde-Addison and developing a plan that keeps our children safe and provides the least disruption to the education of our students," Evans' statement reads. "I expect that we will all have greater clarity at that time."
Hyde-Addison parent and school improvement team member John Lever told The Current he's frustrated that the city hasn't communicated with parents at all since the December announcement.
On the swing space options, community discussions have circulated around two locations — Ellington Field in Burleith or Hardy Middle School in upper Georgetown — but the city hasn't confirmed or denied those two possibilities either way.
Lever, who previously opposed relocating the students during construction, now thinks that it will be necessary to do so given the amount and duration of major construction work that needs to happen on the campus. The outcome of the project justifies the inconvenience, he said.
"There are going to be kids who have gone through the entirety of Hyde with the prospect of having a gym and never getting one," he said. "We've got to do this. D.C. has the money now. They may not have it tomorrow."
Currently, Hyde students can't have physical education classes from November until March because the only play area is outside, according to Churchill. Students also have to spend 45 minutes to an hour each week traveling off-site for arts and music classes because the current building doesn't have a room for an arts facility, she said. "Anyone requesting a delay is telling the city that it's not OK to invest in our children," Churchill said.
Lever thinks the existing building isn't a suitable option due to safety concerns — especially with 25 to 75 additional students from Burleith joining Hyde in the fall due to school boundary changes, and the school's waitlist teeming with hundreds of students.
"If a kid falls, they fall onto asphalt. It's not an appropriate surface for anything," Lever said. "No one would accept that for a school if it were built now. The physical space is atrocious compared to any other school."
Not everyone thinks the project is urgent enough to warrant relocation of students, though. Parent Nora Cameron worries that there won't be enough time to address questions and concerns from the information presented at this Friday's meeting, and thinks parents shouldn't be forced into making last-minute decisions. "Over the next six weeks, it's really crucial that we get confirmed, valid information," Cameron said.
Steve Barentzen, who has a second-grader and a fourth-grader at Hyde, thinks some in the community have made too much of the project's urgency. Each time the school improvement team urges the community to send pre-written letters to city officials, Barentzen writes his own, asking for the project to be delayed.
He said he moved to Georgetown with the intention of sending his children to the neighborhood school. Any swing space location away from Georgetown would be unacceptable for him, and he's strongly considering moving his children elsewhere if the current proposals for construction and relocation move forward.
"Everyone agrees that there's no plan in place, much less a good plan that has been vetted and discussed in the community," Barentzen said. "There's no reason to blow forward this quickly."
D.C. Public Schools spokesperson Michelle Lerner told The Current that the community will be kept abreast of all developments "in the coming weeks and at Friday's SIT meeting."
"DCPS is working with DGS and the Mayor to ensure that the Hyde-Addison community has a tailored building to ensure a successful education for all students, as well as a working swing space during the construction period," Lerner wrote in a statement.
Jeffrey Jones, who serves on Advisory Neighborhood Commission 2E (Georgetown, Burleith), told The Current that getting clear information is the biggest priority.
"The families have been left in the dark too long by an exhausting and unclear process," Jones wrote in an email. "Add to this the confusion of the modernization project, perpetual changes and delays, and now possible budget cutbacks are only adding to the angst being experienced by too many."
Jones said he has received the parents' petition as well as emails with wildly varying views.
"I will continue to believe the future is very bright for this school," he wrote, "as long as the District leadership is willing to recognize it is Hyde-Addison's turn for some real results by following through on their promises."
This article appears in the March 9 issue of The Georgetown Current newspaper.