Parents Blast Latest Tweaks to Hyde-Addison Project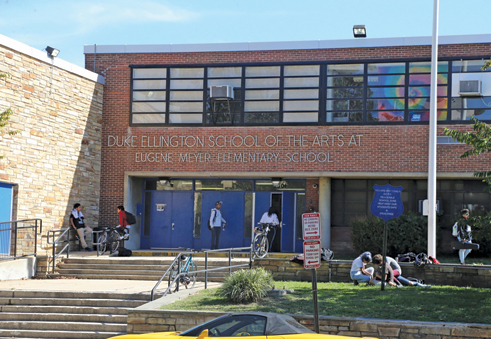 By Mark LiebermanCurrent Staff Writer
Hyde-Addison Elementary students will relocate to the Meyer Elementary School campus in Shaw for two school years beginning next fall, D.C. Public Schools Interim Chancellor John Davis confirmed to parents in a letter Friday, despite recent hopes that they could use swing space closer to Georgetown.
In a separate decision — also controversial — D.C.'s Deputy Mayor of Education Jennifer Niles told members of the School Improvement Team last Wednesday that the city also could cut back on portions of Hyde-Addison's $25 million renovation project, which has been in the works for several years.
In particular, the revised design would combine the cafeteria and gym spaces and enlarge an administrative suite, moving it from its current location along O Street to the new addition that would connect Hyde-Addison's two buildings at the center of the campus.
Members of the School Improvement Team balked at the design changes when they first saw them last week.
"The current design is the product of thousands of hours of design work — research, discussion, visiting other renovated schools, interviewing other school's staff — shared by DCPS, DGS, our SIT and the architects," School Improvement Team member Christine Churchill wrote in an email to The Current. "To change the approved design for something inferior is wrong for children and wasteful of public dollars."
Plans to expand the overcrowded Hyde-Addison have been in the works for the past five years, aiming to provide the Georgetown school at 3219 O St. NW with more classroom space, a gymnasium, a cafeteria and other amenities. But the project has faced numerous delays related to budget allocations, historic preservation concerns and the need to excavate a large sewer pipe.
Churchill worries that the loss of a full-time gymnasium space would impede students' opportunities for physical activity and that the proposed placement of the cafeteria would force the students to eat lunch underground in a room with no natural light. She also said that she and her colleagues have opposed several revisions to the administrative suite in the past, and this proposed change goes against their prior recommendations.
Meanwhile, the swing space news contradicts previous indications from city officials that Hyde-Addison students would relocate to nearby Hardy Middle during the planned construction project, rather than the Meyer Elementary building near Howard University.
Many parents in the Hyde-Addison community had been pushing for the school system to consider Hardy and the Ellington Field as possible alternatives to Meyer, which some say is too far from a significant portion of the school's families and presents other logistical challenges. Ward 2 D.C. Council member Jack Evans told The Current in September that members of his staff had heard from the mayor's office that the school would relocate to Hardy during the renovation.
According to Evans, the mayor had made the decision to swing to Hardy, but then Niles provided reasons why the relocation wouldn't be possible. A reconsideration led to last week's update with the Meyer announcement, Evans said.
Niles all but confirmed the Meyer selection at last Wednesday's School Improvement Team meeting, and the formal letter two days later proved conclusive.
"Given the numerous delays in the modernization of Hyde-Addison over the years and the desire to have Hyde students benefit from their new building as soon as possible, the best decision is to stay on track with the modernization rather than delay the project yet again," Schools Chancellor Davis wrote.
Davis cited Meyer's more than 25 classrooms, multipurpose room with a stage, full cooking kitchen and outdoor space as existing resources that will help ease the transition. The school system plans to work with the Department of General Services over the next year to enlarge classrooms, install a new playground, upgrade restrooms and apply new paint throughout the building at 2501 11th St. NW, which closed in 2008 and is currently in use as swing space for students from Duke Ellington School of the Arts during that school's renovation.
Evans stressed that he has no power to change or influence the swing space decision now that it's been made. But he said he thinks Hardy would have made more sense for Hyde-Addison's local population. As for the proposed cuts to the renovation, he hopes the school system will reconsider.
"I don't support any cuts being made to the project. I think that's a terrible idea," Evans said. "It's already cut back as much as it should be."
At last Wednesday's meeting, Niles told parents that Hardy and Ellington Field had been taken off the table as possible swing space locations, but declined to indicate why. She said discussions of both could not be reopened. School system officials didn't respond to interview requests for this article.
Despite Hyde-Addison parents' enthusiasm, the idea of using Hardy drew some concern from that school's community. Hardy's Parent Teacher Organization co-presidents Neil Hare and Abi Paulsen told The Current last week that they were never consulted about the possibility. They were concerned that an influx of new students on their own crowded facilities would deter parents and students from coming to the school in future years, on top of inconveniencing current families.
"From a logistics standpoint, it's not impossible but certainly problematic for this project to go forward like that," Hare said.
At last week's meeting, Niles did bring up another option that the community hadn't heard before: holding the Hyde-Addison project back an extra year, and taking over trailers at the University of District of Columbia currently occupied by Murch Elementary students waiting on their school's renovation. Parents at the meeting rejected that proposal and complained that they hadn't been given enough time to fully consider it.
"Someone thought it would be a good idea to spring another option on parents and attendees at this meeting," School Improvement Team member Elissa Alben told The Current. "It was a very odd tactic."
A Citizens Association of Georgetown meeting with presentations from city officials and the School Improvement Team is set for Oct. 18 at 7:30 p.m. at St. John's Episcopal Church, 3240 O St. NW. Tours of Hyde-Addison will be offered as well.
This article appears in the Oct. 12 issue of The Georgetown Current newspaper.