The Pants Have It!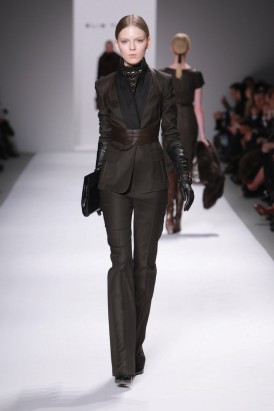 I don't know about you, but my favorite time of year for fashion is Fall! We get to welcome back cozy oversized sweaters, tweed skirts, tights, jeans, boots, fabulous coats and more amongst a perfect backdrop of fall foliage and a crisp cool autumn air.
It's hard to believe amidst this scorching heat wave though, that it's right around the corner. So in an effort to prepare, I want to share with you one of my favorite trends for Fall 2011 - the return of the trouser!
High waisted pants by Diane von Furstenberg available at ShopBop
*Lemon Litoff Blouse available at Anthropologie
A fabulous pair of pants will make you feel powerful, in control and sexy! Plus, they're extremely versatile because they can be dressed up or down and give you a break from dresses. They work paired with a blazer, or a flowy blouse tucked in - like the blouse seen above from Anthropologie - or even just a simple white T.
If you're headed in to the office and want to take the simple route and play off basics by pairing your pants with a white T - do a scoop neck T paired with a chunky pearl necklace and throw on a pair of sexy pumps! Throw a colorful cardigan over your shoulders and you're office-chic but you'd also be set to transition out to dinner with friends at the end of the day.
Have fun with your pants and scoop up a pair of bold colored pants too, like the sizzlin' red Alice + Olivia high waist wide leg pants below, and pair them with a sheer, flowy and flirty white blouse and a pair of nude, black or an animal print heels. You'll be sure to make a statement with a bold colored pair of pants, but trust me, it will be a good statement ;-)
Red high waist wide leg pants Alice + Olivia
Sheer blouse available at ASOS
Remember that these pants should elongate you, it shouldn't look like the pants are wearing you, so make sure you hem them if they're too long but be careful not to go too short. Check out Banana Republic and Tory Burch Fall collections when they hit the stores soon - you won't be disappointed. :o)
XOXO
~MyDCStyle