Pamper Mom with a Georgetown Pedi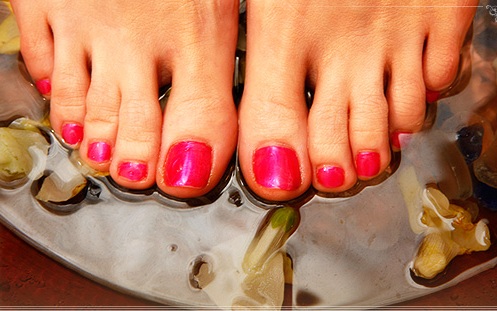 Hey, how about something for Mom that she really wants this Mother's Day -- a mani/pedi just steps away at the corner of M Street and Potomac on the 2nd floor above Subway. Georgetowners are devoted to this unassuming salon -- it's convenience, cleanliness, efficiency and friendliness.
Hanh V. Le, a Vietnamese immigrant, started the salon with his wife after leaving the printing business. The staff includes Angie, Ann, Thi, Bi -- all are friendly and speak English. Thi, a disarming pre-med student, is talkative and interesting to boot.
Customers rave about the service and the prices. "This isn't a sugarcoated place. You won't find a complimentary cup of tea and biscuits and cushiony sofas or lounge areas before your treatments. However, they do nails very well at the best price. There are other nail salons in the area, but they are quite pricey," says an online reviewer.
"I called this place in a pinch 20 minutes before they closed tonight and they stayed open for me, no questions asked. Got an unrushed mani and pedi and completely pleasant service. They closed long after they would have normally and smiled the entire time." says another customer.
Services offered:
Manicure $15
Pedicure $30
Waxing services start at $7 (lip) and goes up to $50 (full legs)
Early Bird Special (before 12noon) include: $42 (combination mani/pedi).
There are waxing specials too.
Call 202.625.5144 for an appointment - walk-ins are welcome.