Palisades Filmmaker Traces 'Tollbooth' Tale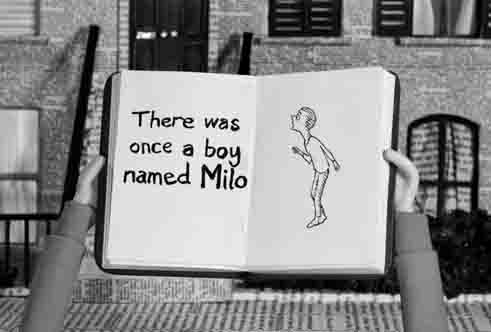 By Mark LiebermanCurrent Correspondent
Palisades resident Janice Kaplan discovered Norton Juster's classic fantasy novel "The Phantom Tollbooth" when she read it to her son Satchel for the first time 17 years ago. Her son liked the book, but she fell in love with it.
Then in 2007, Kaplan found out Juster was scheduled to make an appearance in Satchel's math class at Georgetown Day School, and she made sure she got permission to attend. After Juster's talk, Kaplan met the author and got his contact information. The two kept in touch.
That blossomed into a full-time professional partnership — Juster hired Kaplan as his publicist in 2009 — and personal friendship. One of the products of the relationship is the documentary "The Phantom Tollbooth: Beyond Expectations," produced by Kaplan, which is making its D.C. debut at a Smithsonian Associates event at the National Museum of Natural History this Sunday at 3 p.m.
The 82-minute documentary, completed in 2013 with the help of two Kickstarter campaigns that raised $60,000, traces the origins of the acclaimed 1961 novel, the friendship that developed between Juster and his illustrator Jules Feiffer, and the book's decades-long impact on readers of all ages.
As "Beyond Expectations" describes, "The Phantom Tollbooth" story was born out of the author's childhood frustrations with adults and confusion about the wider world beyond his doorstep. The novel follows a young boy named Milo who is bored by his education and the world in general. When the titular tollbooth mysteriously appears in his room one afternoon, he decides to drive through it in his toy car and ends up in the Kingdom of Wisdom, a land full of puns, magic and danger, where he and his new canine companion Tock are tasked with rescuing the Princesses of Rhyme and Reason.
In the process of making the documentary, the crew found fans who have passed "The Phantom Tollbooth" down to their children and even gotten commemorative tattoos in honor of Milo and his journey — one of Kaplan's favorite parts of the film. "Everywhere we turned, we found people who had fallen in love with the book," she said.
Though her communications background included no experience with film, Kaplan pitched the idea of the documentary as the book's 50th anniversary approached back in 2011. Juster loved her proposal, suggesting that Kaplan talk to his friend Ken Burns, the acclaimed PBS documentarian — but Burns didn't have time for the project before the anniversary.
Just like that, Kaplan's adventure as a film producer began.
In an interview with The Current, Juster — now 86 and living in Amherst, Mass. — said that despite his book's popularity, the concept of a documentary first took him by surprise.
"I had never even thought about a thing like that," Juster said. "I seem to be the world's most ignorant author in terms of what you have to do to promote yourself."
But Kaplan's warmth convinced him.
"She was enormously helpful to me and seemed to know exactly what she was doing and seemed to be an enormously nice person," Juster said.
He also said the documentary exceeded his expectations by capturing a snapshot of the surprisingly powerful reactions and broad reach of "The Phantom Tollbooth."
"It goes by very quickly, and it stimulates an extraordinary amount of discussion," said Juster. "That's, to me, the test of a good film."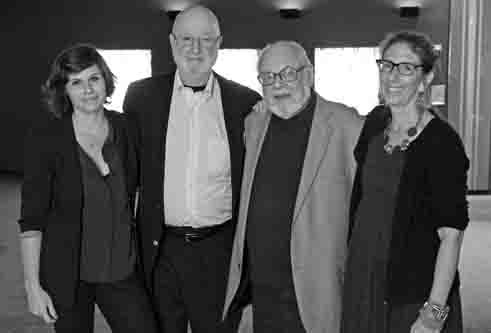 The film is directed by Hannah Jayanti, one of Kaplan's former colleagues at the National Arboretum. Kaplan also recruited and coordinated all of the film's interview subjects and ushered the project from idea to execution. Fellow children's author Maurice Sendak, best known for "Where the Wild Things Are," grew ill and passed away before he could film his planned segment. Featured players in the finished product include actor David Hyde Pierce, narrator of "The Phantom Tollbooth" audiobook, and Eric Carle, Juster's friend and author of "The Very Hungry Caterpillar."
Several Georgetown Day students are also featured, offering their impressions of the book and demonstrating its multi-generational appeal. Max Grosman, 10, shows up in a scene with his sister Hannah, even though Max hadn't read the book before filming took place in their Spring Valley home. (Max caught the filmmakers' eye with a periodic table shirt that read "I am so bored.")
"I was very excited, and it was very interesting for me to actually learn about this book," Max said in an interview, adding that he finished and enjoyed the book after the shoot.
As for Kaplan, she said the documentary was probably her only foray into filmmaking.
"I didn't make the film because I wanted to be a filmmaker," she said. "I made the film because I recognized there was a great story in it."
She said she never anticipated the amount of work she would pour into the project. "It's sort of like having children: If you knew how much it cost and how much time it takes, you might never do it."
Kaplan is proud of the final product, though. During production, she looked to a quote from the book for inspiration: "So many things are possible as long as you don't know they're impossible."
Tickets to the Smithsonian Associates event on Sunday, featuring Kaplan along with Juster and singer-storyteller Bill Harley, are available at smithsonianassociates.org.
This article appears in the July 8 issue of The Georgetown Current newspapers.