Pair of Japanese Restaurants Set to Locate on Wisconsin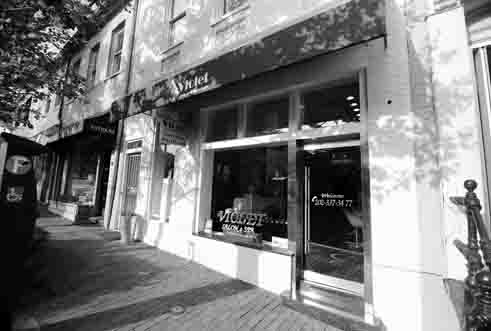 By Katie PearceCurrent Staff Writer
Three new restaurants are coming to Wisconsin Avenue in Georgetown: a merged Japanese concept under the helm of the former Sushi-Ko chef, and a pizza place down the block.
The two neighboring Japanese restaurants, at 1515 and 1513 Wisconsin Ave., will serve teriyaki and sushi respectively. The first will be the D.C. area's first "Yakitori" restaurant, named after a distinct style of skewered chicken. Heading both is chef Koji Terano, who worked at the recently closed Sushi-Ko in Glover Park for nearly two decades.
Linking the two restaurants will make the most out of Terano's skills, according to local entrepreneur Steve Mugati, who is involved as a principal in both concepts. "Instead of keeping him in one place, let's make a second and, you know, take advantage of the situation," Mugati said at an alcohol agency hearing last month. "And he could handle two kitchens with no problem at the same time, right next door to each other."
Mugati currently owns Flash Nightclub and Bar at 645 Florida Ave. NW as well as two local Hugo Boss outlets, including the one in Georgetown. He formerly owned three Buon Appetito restaurants, including one in Tenleytown and another in the Palisades.
In addition to the new Japanese restaurants, Mugati will take ownership of a new pizza delivery place planned for 1419 Wisconsin Ave. He said the small spot, with space for only a pizza oven and a couple seats, will model itself after the successful delivery output of Two Amy's and Il Canale's. "We are just going to do those pizzas, which I see the other two places are just sending them out unbelievably," he said.
Mugati introduced the concepts for all three new restaurants at a July 9 fact-finding hearing before the D.C. Alcoholic Beverage Control Board.
Yakitori, seating about 60 people, will replace the John Rosselli Antiques shop at 1515 Wisconsin Ave. The 80-seat sushi restaurant next door, which doesn't yet have a name, will replace the Violet Salon & Spa. Those tenants will move out by early next year and then the new restaurants will open in sync, Mugati said at the hearing.
In an interview this week, Andrew Kline, the legal representative for the restaurant ownership, said the spaces will require major reconstruction — a process requiring various approvals. "They've got a long road ahead of them" with the Old Georgetown Board and the Historic Preservation Review Board, he said.
At last month's hearing, alcohol board member Nick Alberti expressed concern about how that buildout process — which in historic Georgetown involves extra preservation review — could affect the opening dates for the Japanese restaurants.
"We are trying to get some confidence and … make you understand that we are really looking for a concept that is going to move forward in a reasonable time frame," Alberti told the restaurant representatives, asking them to return in January with an update. "You don't want to wait three years until you see something," he said, referring to the problem of liquor licenses that win board approval only to sit unused. This is a particular issue in Georgetown, where a moratorium means that no more than 68 restaurant licenses are allowed at a time — regardless of whether they're actually in use.
Alcohol board member Hector Rodriguez said he thought "Georgetown would appreciate some kind of a restaurant with this … cultural concept, which lends itself to tourism."
Both Japanese eateries are applying for new restaurant-class liquor licenses, and the board has scheduled hearings for September and November in the case.
Other big news in the Georgetown dining scene came this week from Mr. Smith's, which plans to shut down its longtime home at 3104 M St. due to rising rents.
Several news outlets reported yesterday that the well-known saloon is eying the spot that Chadwicks is soon set to depart, at 3205 K St. A Mr. Smith's manager told DCist that the deal isn't yet final.
In the meantime, a couple of other Georgetown restaurants are currently going after license changes.
The After Peacock Room, at 2622 P St., plans to transition from a tearoom/coffeehouse into a small restaurant serving lunch and dinner, owner Heewon Ra said in an interview. The restaurant hopes to win the city's permission to serve wine with those meals, she said.
Ra, who has owned the building for about three years, said she plans to reopen the After Peacock Room this fall with the new offerings, after temporarily closing it over the summer.
In addition, J.Paul's, the saloon at 3218 M St., is now applying for an entertainment endorsement. Kline, representing the owners, said they're seeking "more flexibility," though he couldn't describe the exact nature of the entertainment planned.
The Georgetown advisory neighborhood commission is holding a special meeting next Wednesday to consider several liquor license applications, and will vote on others in September.
This article appears in the Aug. 20 issue of The Georgetown Current newspaper.