A Painterly Trip Through France with Rodgers Naylor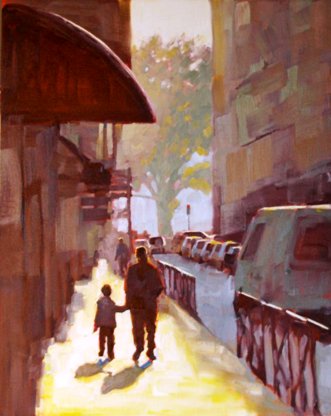 Artist and Washington, D.C. native, Rodgers Naylor is exhibiting a new series of work at Susan Calloway Fine Arts Gallery beginning March 24, 2012.
"A Journey from Paris to the South" is inspired by scenes of Paris, Lyon, Burgundy and the southern countryside, and explores the classic dichotomy between city and country life. From bustling Parisian café scenes to the rolling hills of the Burgundian countryside, to tree-lined villages of the far south, the paintings are an invitation to reflect on the rich and varied pleasures of French life.
Although the subjects are characteristically French, Naylor's scenes of the everyday are universal. Using the "alla prima" method (starting and finishing a painting in one session), the artist eloquently conveys fleeting beauty through masterful brush strokes of light and form.
Naylor spent his childhood on a farm near the Patuxent River in Maryland. He pursued painting and drawing at the Minneapolis College of Art and Design, The Atelier in Minneapolis, and the Art Students' League of Denver after attending the University of Chicago and Carleton College for academics. Naylor currently lives and works in the mountains of Colorado.
Susan Calloway Fine Arts is located at 1643 Wisconsin Avenue. Tel: 202.965.4601 The Rodgers Naylor exhibit runs from March 24 through April 21, 2012. Opening reception is Saturday, March 24th from 5:00 to 8:00 pm.