"The Painted Cinema" Opens March 15th at Italian Embassy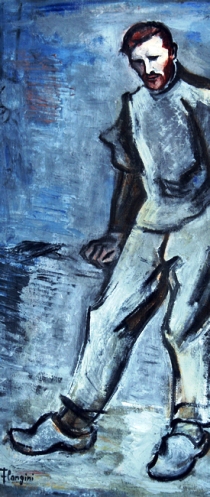 During the filming of the movie Lust for Life (winner, among other things, of a Golden Globe and an Oscar in 1957), which Vincent Minnelli filmed in Belgium in 1955 on the life of Vincent Van Gogh, Giuseppe Flangini created a storyboard of more than 50 works, including oils and drawings.
An exhibition "The Painted Cinema" (IL CINEMA DIPINTO) presented by the Embassy of Italy/Italian Cultural Institute (in collaboration with Regione Lombardia, Associazione Giuseppe e Gina Flangini, and Associazione Colosseum Roma) offers the American public a chance to see these works. This exhibit opens March 15, 2012 from 7:00 - 8:30 pm.
Exceptional examples of the production work of the film (cast, scenes, actors), but also a glimpse of a place and a time in European history through the multi-faceted perspective of the time of Van Gogh and the production period of the film, an American cinematographic insight and its reinterpretation by the estrus of an Italian painter.
At the opening, Maestro Stefano Gueresi will perform at the piano his compositions inspired by Flangini's paintings and a series of ceramics by Claudio Cipriani will also be on display.
Click here for more information.
The Embassy of Italy is located at 3000 Whitehaven Street, NW,