Paddle Potomac! Paddle Shenandoah! June 18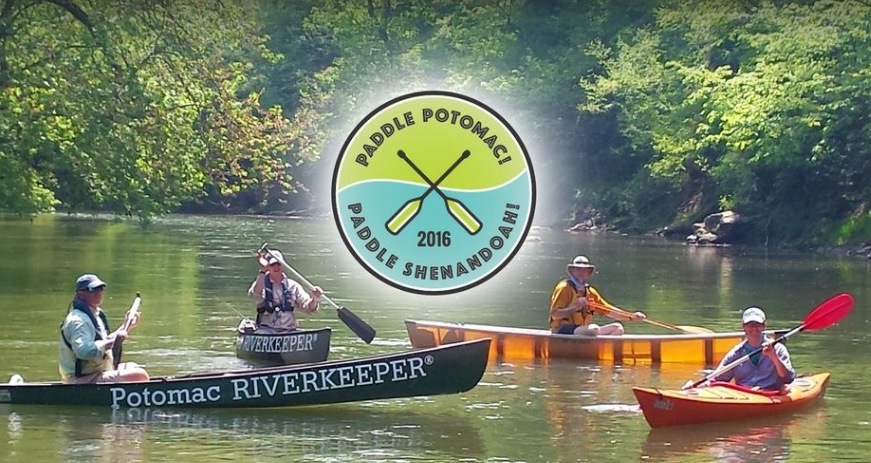 Make a SPLASH for clean water June 8-19th! The Potomac Riverkeeper Network, in partnership with the National Park Service, is organizing Paddle Potomac! Paddle Shenandoah!, an unprecedented series of canoe and kayak adventures lasting from a few hours to a few days, and for all skill levels.
Join the Potomac Riverkeeper Network on twelve paddle trips in eleven days! Paddle the Potomac and Shenandoah Rivers to celebrate the 100th Anniversary of the National Park Service on our Nation's River. This event promises to be a celebration of area waterways, the trips mix history, education and recreation.
On June 18, join the Potomac Riverkeepers for a special celebration on the Georgetown Waterfront at Key Bridge Boathouse. Beginning at 8:00 am, the Potomac Riverkeeper will lead one of DC's iconic paddles -- a guided paddle tour around Roosevelt Island. In the 1930s, landscape architects transformed Mason's Island from neglected, overgrown farmland into Theodore Roosevelt Island, a memorial to America's 26th president. They conceived a "real forest" designed to mimic the natural forest that once covered the island. After the paddle, enjoy the Georgetown Waterfront! Click here for more information about this event.
"The best way to appreciate our rivers is by being on them, and that is what Paddle Potomac! Paddle Shenandoah! is all about," says Potomac Riverkeeper Dean Naujoks. "We'll see areas of our rivers most people never experience."
More information and registration details can be found here.