P Street Shops Get Special Makeover For Holidays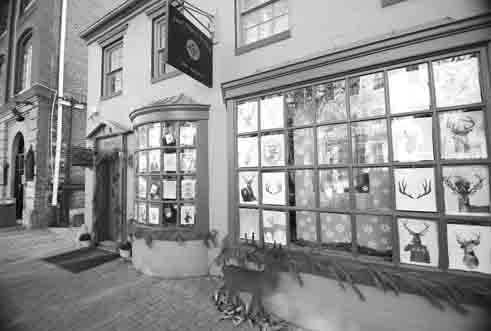 By Dylan ReffeCurrent Correspondent
The 3200 block of P Street is brimming with reindeer after a makeover tied to Small Business Saturday.
This stretch of Georgetown is one of five city blocks nationwide to be redecorated as part of American Express' "Main Street Makeover" program. Five shops on P Street underwent the holiday treatment.
"I love this block," said Sheila Bridges, the New York City-based interior designer American Express partnered with on the project. Bridges chose a reindeer theme to bring out the charm of the historic block.
"Everyone likes and supports each other," the designer said of the local shops here. "It's like a small community."
Broadly, the makeover projects are an effort to highlight the importance of small businesses during the holiday season. "Big stores have Black Friday, online shopping has Cyber Monday, so Small Business Saturday is the ceremonial kickoff of the holiday shopping season for small businesses," said Scott Krugman, a spokesperson for American Express.
On P Street, Bridges worked on decorations for Anthony's Tuxedos & Wedding Creations, Ella-Rue, P Street Gallerie, Just Paper & Tea, and Little Birdies.
"Sheila did a great job," said Alexa Johnson, a co-owner of Ella Rue. "We had an idea, and she ran with it. I especially like what she did with the mannequins."
But Bridges wasn't working alone this week. Elizabeth Kane, a George Washington University student getting her Master of Fine Arts, got the opportunity to "intern" with the interior designer for the week.
"I learned so much," said Kane. "It was a long week, but it was great!"
Bridges' designs in each storefront carefully represent the atmosphere of each store. Just Paper & Tea had many paper cutouts lining the windows, alongside paper drawings of reindeer. Both Ella-Rue and Anthony's had fancier designs and a few formal reindeer, while the window outside Little Birdies was full of colorful wreaths and more playful-looking reindeer, including Rudolph.
"Sheila was so fun to work with," said Shanlee Johnson, the owner of Little Birdies, a children's clothing store and the newest small business on the block.
Johnson is a true P Street success story. "I used to work at Ella-Rue across the street," said the shop owner. "I always wanted to open my own boutique, but corporate retail is so tough."
Little Birdies has now been open for 10 months, without signs of slowing down.
"This street is so close-knit in terms of business," Johnson said. "We send customers back and forth whenever possible. Ella-Rue has been instrumental in the success of this store."
The P Street block was just one of several local stops this weekend for officials promoting Small Business Saturday.
"We started this morning with a breakfast at Baked and Wired," said Miguel Ayala, the press secretary for the U.S. Small Business Administration. "After P Street we are going to Adams Morgan, and then headed off to Alexandria with Sen. Mark Warner, and then finally to Anacostia with [D.C. Del.] Eleanor Holmes Norton."
Not only was #SmallBusinessSaturday trending on Twitter, but even President Barack Obama was out giving his support in D.C., visiting Politics and Prose and leaving with multiple bags stuffed with books.
This article appears in the Dec. 3 issue of The Georgetown Current newspaper.