P Street Pictures could face final 15 minutes of frame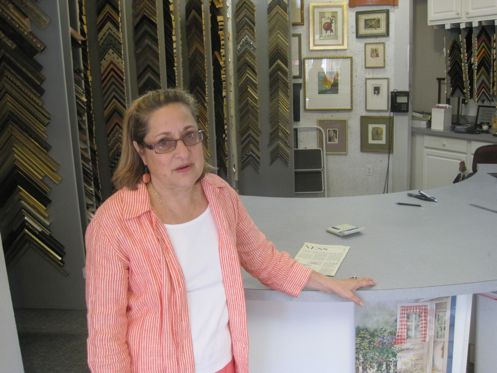 She has survived prolonged recessions, floods and blizzards, crime waves, upturns and downturns. She has kept the doors of her neighborhood-oriented business open on P Street for 28 years in Georgetown, supporting two co-workers for 25 years. She has "framed," as she calls it, many if not most houses in Georgetown.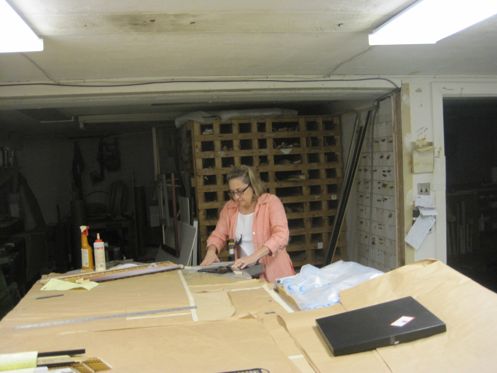 But now, Judy Schlosser, founder of this simple but beloved frame shop, who never needed a bank loan and never missed a monthly rent payment, is about to lose her business over a broken air conditioner. It's a sunny, hot day and a neighbor brings in his two dogs to get out of the sun. "Come right over here! We have treats for you," she says, patting the animals gently. She is shaken, but putting on a cheerful smile. "I can't believe it," the neighbor says. "I feel sick to my stomach." The phone is ringing. Neighbors and customers are upset. They are incredulous. When the air conditioner at P Street Pictures went on the blink in June, Schlosser called her landlord of 25 years, Bob Enzel, and told him of the problem. When technicians determined that a new unit was necessary and would cost $5,000, Enzel discouraged Schlosser from making the investment without signing a long-term lease. She had been month-to-month for 25 years. Schlosser agreed with the logic and paid an annual rent increase that month, bringing her rent to $3000 for 600 square feet of first-floor space and a basement of the same size. Enzel wrote Schlosser a letter saying, "You have been a good tenant, and we want to help." But "help" in this case came in the form of a second letter in July, Schlosser says, in which Enzel said he couldn't offer a lease because another party was interested in the space and "I want to explore my options," Schlosser said. A notice to vacate followed shortly thereafter, giving the 28-year-old business eight weeks to get out. "I didn't do anything wrong," Schlosser says, her voice rising. "I've just been plugging along, keeping going, making payroll." The landlord has not spoken with her in weeks, now communicating in legal-sounding letters. Enzel didn't return a call from The Georgetown Dish seeking comment.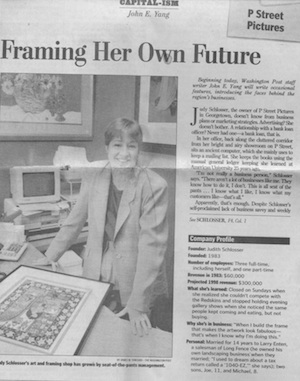 Over the years, P Street Pictures went through busy periods and slow times, but meanwhile built one of the finest reputations in one of the most competitive markets in Washington, having framed photos and artwork for presidents, judges and journalists -- the full range of Georgetown VIPs and beyond. "I got a call once from the DNC. They needed something framed for the next day. It was going on Air Force One. The woman said, 'It's for the big guy,'" meaning President Bill Clinton, Schlosser giggles, remembering the adventure. "There were two framed pieces -- one for Al Gore. Lapel pins from all 50 states. They sent me a picture of Clinton holding it." There have been Senators and Congressmen. "We even framed pictures for the guy who headed the IMF," she whispers, referring to Dominique Strauss-Kahn. The big names of Georgetown -- Woodward, Walsh, Dowd, Kelley, Joynt, Kassebaum and Baker -- came to this store. "Stephanie Cutter got my son a job with Sen. Kerry!" she adds, looking hopeful again. Schlosser started the business after working as an accountant for 10 years. Desperate for a change, she apprenticed herself to two framers and bought a mat cutter and a vise. She got a loan from her parents and used all her savings -- $10,000 -- to rent a tiny space a few doors down on P Street, where her business was born. Somewhere along the way she raised two boys and hired Drena Anderson and Susan Barreca, who have each stayed on for 25 years. But that history seems to carry little significance with her landlord, whose latest letter says she will be "required to surrender the premises October 31." Enzel won't say who the new tenant is. Upstairs in the same building, he rents out three one-bedroom apartments in addition to the frame shop. "I've been framing everything with Judy over the years," says portrait photographer Matt Mendelsohn, who has been coming to the store since the 1990s, even after moving to Alexandria years ago. "You do business with someone you know, because they do a good job, they do an expert job. You do business with people. That this landlord could be this out of touch with his humanity, it's unbelievable. You shouldn't do this to people in this economy," he says. Schlosser is scrambling to find another space, but if the notice to vacate holds, she will have to stop taking orders September 15, have a fire sale of all her prints and frames, and miss a holiday season that could help the business survive until finding a new location. Schlosser turns 60 on Sunday. For the first time in her life, her husband bought her a bracelet, she says, a nice piece of jewelry. Between answering calls from worried neighbors to offering customers' dogs a biscuit, Schlosser twists the delicate chain with her fingers. "Thanks for coming by," she says, walking a customer out of the store as Anderson and Barreca look on with watchful eyes. "It's awful," says Mendelsohn. "To think that this could happen. It totally bums me out."P Street Pictures is at 2621 P St. NW, tel. (202) 337-0066.