Outraged District residents protest on Hill Monday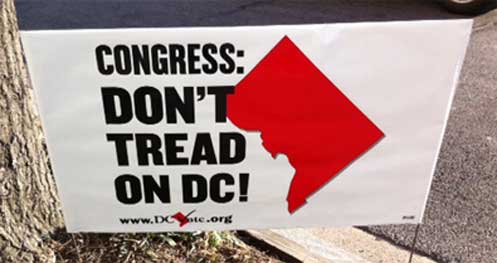 Georgetown is covered in signs expressing anger over Congressional tampering with the D.C. budget.
The details are still dribbling in, but what is clear is D.C. lost its right to fund women reproductive health services and is being forced to restart an expensive school voucher program few residents want.
Most likely the controversial, poorly-performing voucher program will be paid for by cuts to the popular DC TAG program that offsets college tuitions for D.C. students.
As Georgetown blogger Carol Joynt regally states: "Sheesh, we were kicked to the curb and down the sewer drain. Our non-voting "delegate," Eleanor Holmes Norton, hit the right note when she said Congress can go "straight to hell."
Mayor Gray said in a Saturday statement, "While I am relieved that Congress reached an agreement so that our employees can work and city services can continue, I am also angry and extremely disappointed that the District of Columbia, once again, suffered collateral damage amidst partisan bickering."