Oscar Prep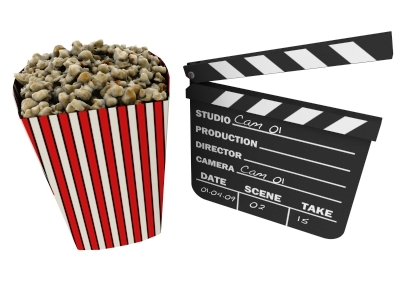 I am a shameless red carpet watcher and the Academy Awards is no exception. This is my Super Bowl, baby! In fact, I usually settle in for the evening with a couple of girl friends, champagne and Oscar Popcorn* among other delicacies. One year, I hand-delivered "Oscar" envelopes—really an invitation to my black tie party, complete with a red carpet and life-size Oscar. Everyone came dressed for the red carpet or as their favorite nominated character. The winning costume was awarded with—what else? A chocolate Oscar!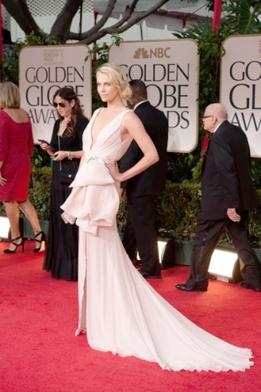 So, you can see I take this very seriously. In anticipation of the BIG SHOW on February 26, I've assessed the fashions from the 2012 Golden Globes and SAG Awards. The real standouts—aside from the disastrous Sarah Michelle Gellar in a blue and white tie-died strapless Monique L'huillier—are Charlize Theron in a soft pink Dior dress, Angelina Jolie in a white strapless Atelier Versace and Emma Stone in an Alexander McQueen black strapless tea-length stunner. An honorable mention goes out to Octavia Spencer who did the plus size gals proud in Tadashi Shoji at both shows.
Don't get me wrong! There were scores of gorgeous dresses on perfect bodies—just nothing original, creative or fun. We saw the same tired body hugging, breast oozing strapless gowns with a variety of textures and trains to set them apart. They're the uniform of the Hollywood red carpet. Yawn.
I want to see new and daring! Let's have fun with fashion, people! That's what it's all about in case you've forgotten. I am not suggesting that stars should make their entrance in a golden egg ala 2011 Gaga Grammy style. Nor, do I recommend a swan dress such as Björk wore to the 2001 Oscars. But, perhaps we could bring back glamour, sophistication and originality as did our three fashionistas from above. Their dresses were about structure, femininity and timeless looks. The lines were simple and classic. There's no question that all three of these women looked sexy, beautiful and comfortable—and raised the bar doing so.
Ah, but this is all just a warm up for the big night. What will they wear? Will they get it right? Who will be a train wreck due to some tragically trendy stylist? We can only wait and see. This year I am watching with my BFF from college. I will also be texting with my 22-year old daughter, toasting and trashing gowns as the stars appear. Oddly enough, despite our age difference, she and I always agree on the winners and losers. Must be that good taste and good fashion never go out of style.
*Speaking of good taste, here's the recipe for
Oscar Pop Corn
1 bag popped microwave buttered pop corn (10 to 12 cups)
1 cup salted mixed nuts
½ cup dried cranberries
1 12 oz package white chocolate
½ teaspoon cinnamon
Edible gold powder (optional)
Pop corn and pour into large bowl.
Add nuts and cranberries; stir well.
Melt white chocolate in double boiler or microwave, then pour over pop corn mixture till evenly coated.
Spread onto large rimmed baking sheet; sprinkle with cinnamon, stirring to distribute evenly. Cool completely.
Sprinkle with gold powder if desired.
Store in air-tight container.
Serve in martini glasses.
Written by Robin Jones
Robin is a fashion stylist with Style for Hire, a Stacey London Company and co-owner of www.refreshyourdress.net.