Oscar Fever Hits Georgetown at Cafe Milano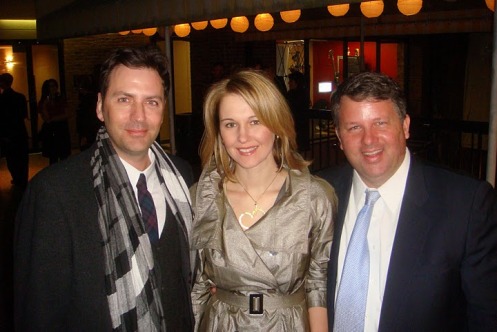 Hollywood's Oscar fever hit Washington, D.C. last night at the Fitness Together party sponsored by Washington Life at Café Milano in Georgetown. Instead of political debates and press conferences, the party goers watched the classic movie "Casablanca" which was projected onto an outside brick wall.
Image
The invite-only crowd of DC's Hollywood types came out to get in the Oscar sprit before the Academy Award show airs Sunday. Letelier Theater projected movie magic throughout the event. Guests gave donations to the American Red Cross as they arrived at the patio courtyard behind Milano; everything at the party was donated so 100% of the proceeds went to the Red Cross.
WashingtonLife's big honchos worked the crowd, including John Arundel (with wife Christine) and Michael Clements (who was greeting guests in person and via Twitter). Party host Matt McKinnis demonstrated the latest in personal training and competed against guest David Bass in a push-up contest (McKinnis won, but Bass proved a worthy opponent.)
The media crowd were there to track the red carpet arrivals, including the Washington Examiner's Yeas and Nays Columnist Tara Palmeri, Politico Click reporter and Georgetown resident Kiki Ryan, political reporter Tim Burger, Chris Brown, Pamela's Punch writer
Image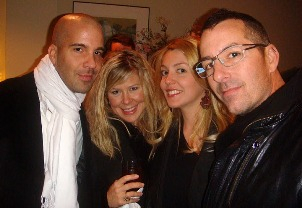 Pamela Sorensen, ABC 7 anchor Cynee Simpson, The Scene Bisnow'sKristina D'Ambrosio, Susan Roberts and Local Kicks' Food Editor Jordan Wright.
Among those moving through the packed crowd were George at the Four Season's Benevolent Dictator Rick Raines and Celebrity Makeup Artist Carl Ray (pictured with two friends above). Also spotted in the crowd on the patio were David Vennett, Andy Baldwin, Katherine Kennedy and Todd Flournoy.
Everyone's favorite photographer, WL's Tony Powell snapped pics of guests as they drank bubbly from Moet and Chandon and other cocktails from Belvedere Vodka, Anheuser Busch, Paradise Springs Winery, Honest Beverages and Bacardi Spirits.
However, professional athlete, ultra-marathoner Sarah Stanley was drinking
Image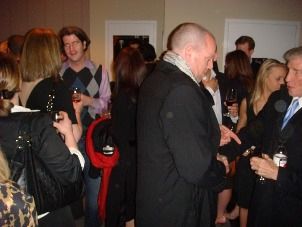 Muscle Milk and nibbling on crudités. Delicious hors d'oeuvres were enjoyed from host Café Milano, Sweetgreen, Embassy Row Catering and Mie N Yu.
Like Hollywood awards events, guests were given "swag bags" filled with goodies, such as: Oscar-shaped commemorative chocolates from Moet & Chandon (the official sponsor of the Oscars); free workouts with a Fitness Together trainer; movie posters from Warner Bros.; bottles of Honest Tea and Muscle Milk and $25 gift certificates to Georgetown's Fresh boutique.
The Oscars air this Sunday at 8 p.m. on ABC.