Oscar Countdown: 12 Years a Slave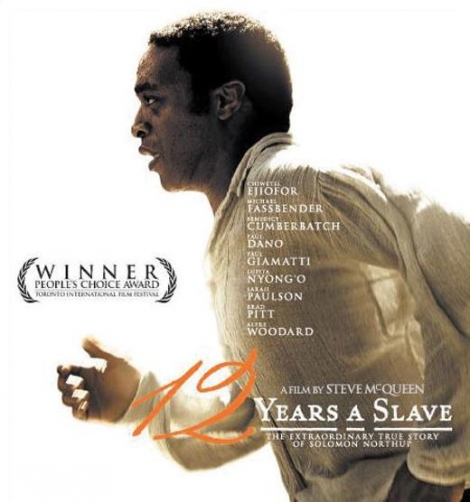 In our countdown to the Oscars, we continue with Best Picture. Our previous countdown eliminated everything else so guess that means we are going with 12 Years a Slave.
"12 Years a Slave is a 2013 British-American historical drama film and an adaptation of the 1853 memoir of the same name by Solomon Northup, a New York State-born free negro who was kidnapped in Washington, D.C. in 1841 and sold into slavery. He worked on plantations in the state of Louisiana for twelve years before his release. The first scholarly edition of Northup's memoir, co-edited in 1968 by Sue Eakin and Joseph Logsdon, carefully retraced and validated the account and concluded it to be accurate.
This is the third feature film directed by Steve McQueen written by John Ridley. Chiwetel Ejiofor starred in the leading role of Northup. Michael Fassbender, Benedict Cumberbatch, Paul Dano, Paul Giamatti, Lupita Nyong'o, Sarah Paulson, Brad Pitt and Alfre Woodard featured in supporting roles. Principal photography took place in New Orleans, Louisiana, from June 27 to August 13, 2012, on a production budget of $20 million. The locations used were four historic antebellum plantations: Felicity, Magnolia, Bocage, and Destrehan. Of the four, Magnolia is nearest to the actual plantation where Northup was held." Wikepedia
12 Years a Slave is what we would call a perfect movie: Perfect editing – Perfect casting – Perfect character performances. Had it not been for editing, our backup choices American Hustle and Gravity, (which we didn't expect to like, but did) could have made this a toss-up. En fin, we're going with 12 Years a Slave for Best Picture.