Oscar Coundown: 'Spotlight'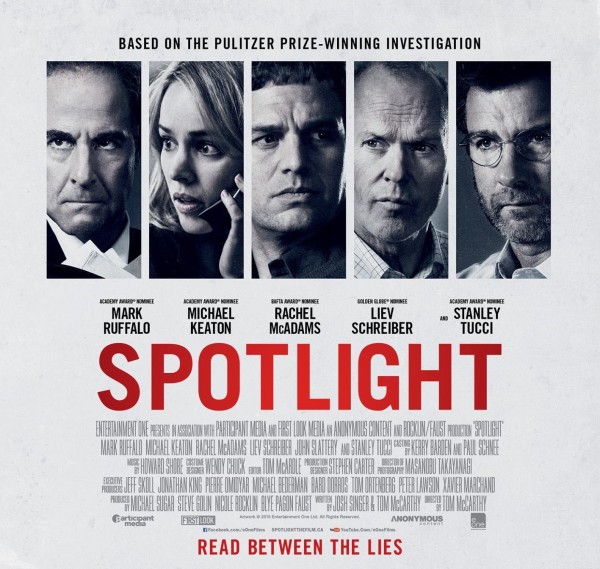 In the Best Picture category for The 88th Academy Awards 2016 that will take place on Sunday, February 28, today we cover Spotlight. It tells the riveting true story behind the Pulitzer Prize-winning Boston Globe investigation. "It would rock the city and cause a crisis in one of the world's oldest and most trusted institutions. When the newspaper's tenacious "Spotlight" team of reporters delves into allegations of abuse in the Catholic Church, their year-long investigation uncovers a decades-long cover-up at the highest levels of Boston's religious, legal, and government establishment, touching off a wave of revelations around the world." IMDb. The film stars Michael Keaton, Mark Ruffalo, Rachel McAdams, Liev Schreiber, John Slattery, Brian d'Arcy James, Billy Crudup and Stanley Tucci.
Here's the take: The true story of how the Boston Globe uncovered the massive scandal of child molestation and cover-up within the local Catholic Archdiocese, shaking the entire Catholic Church to its core is directed by Academy Award-nominee Tom McCarthy. "SPOTLIGHT is a tense investigative dramatic-thriller, tracing the steps to one of the biggest cover-ups in modern times," according to the filmmakers. The problem is that the "tense" part doesn't show up in the flick. One would expect that a scandal of this magnitude combined with the power of the Catholic Church would have included more cloak and dagger.