Orange rolls into high gear with campaign kick-off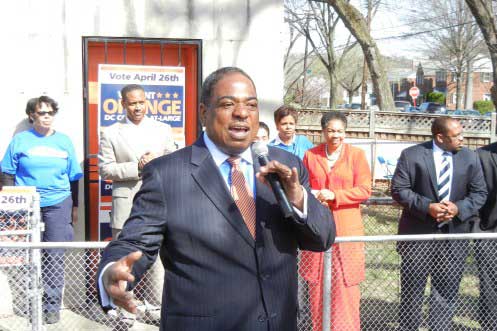 Joined by Georgetowners such as Hope Solomon and well-known ANC Commissioners such as Ward 3's Tom Smith, Vincent Orange, the former Ward 5 Councilmember and unsuccessful candidate for mayor and Council chairman, pushed his at-large council campaign into high gear on Saturday with a kickoff rally in Northeast including a strong message on Georgetown University's proposed expansion plan and a pledge not to raise taxes to balance the D.C. budget.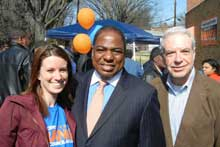 "We are here for our experience, integrity, accountability [and] independence," he said. "We are tired of this nonsense…we are not here for selfless gain," he added, apparently referring to the ethical and political problems engulfing Mayor Vincent Gray and Council Chairman Kwame Brown.
On the town-gown issue generated by Georgetown and American Universities' expansion plans, Orange expanded on his strong opposition to the GU plan to oppose expansion proposals by American University. "I support the AU community," he said.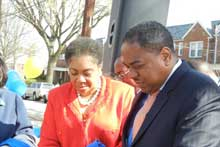 In the cheering, clapping audience of about 100 were friends and family, political operatives and union members, ex-DC Government officials, small business people and former Councilmember Sandy Allen from Ward 8. Hope Solomon, the daughter of Georgetown ANC Commissioner Ed Solomon, was introduced as his Ward 2 coordinator and Tom Smith from Spring Valley as Ward 3 coordinator.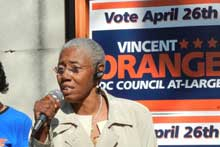 On other issues, Orange said "we don't need to raise taxes….we can balance the budget" and keep programs for education and jobs. The District Government should go after unpaid and uncollected real estate and other taxes, do a better job on Medicaid and other federal reimbursements and take advantage of the jobs and taxes generated by the major economic development projects at Walter Reed, Anacostia Waterfront, the Convention Center and the Department of Homeland Security. "Let's work with the money we have," he said.
Orange is going for the at-large seat vacated by Kwame Brown when he was elected chairman, defeating Orange in last year's September primary. This seat is now filled by interim appointee Sekou Biddle. Later on Saturday, Orange received the endorsement of the Ward 8 Democrats. The citywide, winner-take-all election is April 26.