Orange backs ethics commission led by Rivlin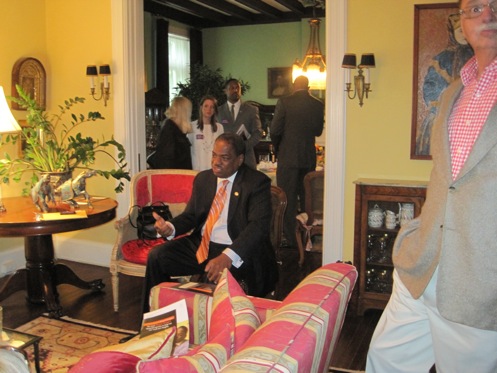 Facing an array of ethics controversies in the District government, newly-elected Councilmember Vincent Orange pledged his support for a new blue-ribbon commission to coordinate ethics investigations, while the head of the Alcohol Beverage Control (ABC) Board released memos by the D.C. Office of the Attorney General in response to ongoing charges of conflict of interest.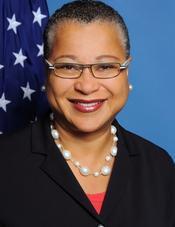 Orange pledged his support for a commission led by former Fed official and D.C. budget expert Alice Rivlin as well as SBA official Marie Johns that would oversee disclosures and ethics investigations involving elected and high-level appointed officials, as well as other issues such as nepotism and conflict of interest. Meanwhile, ABC Board Chairman Charles Brodsky released memos by the Attorney General that he says resolve ethics controversies plaguing the Board. In an email to The Georgetown Dish, Brodsky wrote, "On Tuesday, April 19th I was informed by the Office of the Attorney General that the ABC Board holds the confidentiality privilege over the attached memo and email written by the Attorney General's Office. Once I learned that I brought it immediately to the ABC Boards (sic) attention the next day. The Board voted unanimously to release the documents." The documents, dated January 4 and February 17, 2011, direct Brodsky to recuse himself from matters involving his businesses, including The Nation's Triathlon, The D.C. Triathlon, and Washington Sports and Entertainment Management, of which he is Chairman. The AG's office suggests in the memos that
Brodsky send a representative other than himself to appear on behalf of his businesses before Advisory Neighborhood Commissions in order to avoid the appearance of conflict of interest. "Once Chairman Brodsky, you have agreed to these restrictions," wrote Thorn Pozen, Special Counsel in the Office of the Attorney General, "I see you not being in a position to either wield any influence over, or personally profit from participation in, any ABC issues involving your private outside organization, and I therefore see no room for conflict under our government ethics rules."

ANC Commissioners reacted negatively to the memos. "Whether it's him or his employee representing his company, what's the difference?" asked one Georgetown ANC Commissioner, speaking on the condition of anonymity. "It's still Brodsky." ANC 2A, representing Foggy Bottom and the West End, passed a resolution calling on Brodsky to recuse himself from alcohol matters in its jurisdiction, citing conflict of interest concerns. The ANC also asked the D.C. Office of the Inspector General to investigate.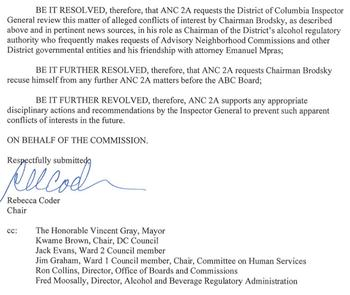 Separately, the ABC Board voted 3-0 to reverse a controversial decision involving Washington Wholesale Liquor -- from whose matters before the Board Brodsky recently recused himself.

As proposed, the Alice Rivlin-Marie Johns Commission would coordinate procedures and investigations related to financial disclosure for elected and high-level appointed officials, rules for hiring relatives and those with whom an official has an intimate relationship, the role of the Council-appointed D.C. Auditor and the Inspector General, contribution limits and disclosure rules for candidates, constituent services funds, transition committees and other politically financed bodies, and conflict-of-interest standards and enforcement for all elected and appointed officials.