Opposed Perspectives Clash at ANC Candidates Forum in Georgetown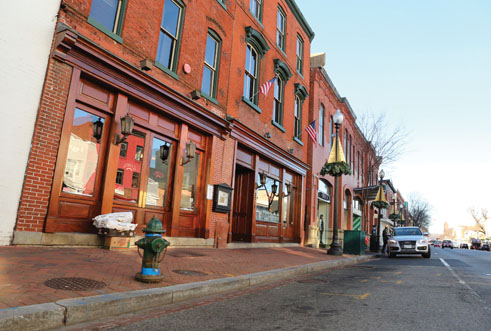 By Mark LiebermanCurrent Staff Writer
Neighborhood leaders presented their visions for the future of Georgetown on Monday at a feisty forum of Advisory Neighborhood Commission 2E candidates, with two contested races generating the most heat.
The District's advisory neighborhood commissions are made up of unpaid commissioners elected to two-year terms. Each commissioner represents a single-member district of about 2,000 residents, and commissions issue advisory resolutions on issues that include alcohol license applications, requests for zoning relief and — in Georgetown — Old Georgetown Board applications.
The most contentious race in ANC 2E (Georgetown, Burleith) is for single-member district 2E05 in the southern part of the neighborhood, where Bill Starrels, a 16-year member of ANC 2E, faces challenger Lisa Palmer, who has lived in the neighborhood since 2012.
The race represents contrasting perspectives: Starrels maintains that his decade-plus of institutional knowledge will be missed if he's voted out, while Palmer thinks a fresh perspective, particularly one of a working mother, will help ANC 2E move forward.
Starrels cited his in-depth knowledge of preservation issues and emphasized that he has contacts within numerous city agencies, as well as with the current mayor and past ones. "My emails and calls do get answered," he said.
Palmer focused on her tendency to take action rather than complain about issues, and promised to convene a task force to deal with traffic issues in the neighborhood within 90 days of taking office. She said she backs the long-term plan to add a bike lane and an extension of the DC Streetcar as ways to improve the corridor.
Starrels said that conditions have worsened primarily because of growth in the immediate area. "When you have very nice expensive condominiums, all these people have cars," he said. "That's why traffic's not gotten better down there, quite frankly."
The two also disagreed sharply during Monday's forum on the issue of parking in the neighborhood. Starrels supports considering a citywide Department of Transportation proposal that would allow any ANC to request "resident only" parking: Throughout that ANC, one side of each residential street would be reserved for vehicles registered in the same ward while the other side would retain existing two-hour windows for drivers without a zone permit.
"What we were trying to do, and hopefully will do, is have as a tool in our toolshed one-side-of-the-street parking for residents," Starrels said of his October vote in support of the proposal, which ANC 2E overall opposed by a 5-4 vote. "That doesn't mean we're going to adopt what DDOT was proposing — that's just too far-reaching and doesn't exactly fit what Georgetown might need."
Palmer countered that the community didn't have enough time to weigh in before Starrels and his colleagues made that decision.
"I believe that the ANC commissioners need to be talking to their constituents about really big issues," Palmer said. "I don't think it really matters that much about what I personally think. What I need to know is what my constituents think."
Meanwhile, a civic issue also divides the candidates. In recent months, community members have circulated Palmer's publicly available voting records, which indicate that she hasn't voted in a D.C. election since the 2008 presidential race.
In an email to The Current over the summer, Palmer wrote, "As a registered independent, in a city where the primaries tend to dictate the eventual winner, November elections have been hit or miss in terms of contested races." She hopes residents will vote not based on the candidates' participation in prior elections, but rather on their stances on current issues.
Starrels criticized Palmer's voting record in an interview after Monday's forum. He doesn't think that anyone should decline to vote, especially when the person then runs for public office.
"My opponent spoke tonight about how important it is for women's rights, for women to get involved," Starrels said. "For what women went through once upon a time to get the vote, and for a person not to exercise their right to vote for eight years, that's a shame."
The other contested race is between two prospective newcomers to ANC 2E: Rick Murphy and Greg Miller, competing for the 2E03 seat occupied by Jeffrey Jones, who is stepping down.
At the forum, Murphy touted his years of experience with the neighborhood and the commission, including his tenure as ANC 2E's legal counsel, and his work with the Georgetown Community Partnership, which bridges the gap between residents and Georgetown University.
Miller, who graduated from the university in 2014 and now works there as the sustainability programs coordinator, emphasized the neighborhood's diversity of ages and perspectives and his desire for increased environmental friendliness where possible.
Forum moderators John Lever and Topher Mathews pressed Miller on the possible conflict of interest between representing the neighbors and working for the university. Miller said he's spoken with Georgetown lawyers and the D.C. Board of Ethics and Government Accountability, who have assured him that he can accept the position as long as he recuses himself from votes on university matters.
He also pointed out that university matters represent only a fraction of ANC 2E's work, though Lever, a former ANC member, countered that discussions with the university often take place informally. "From what happens in the background, I'd still be able to participate in those," Miller said.
Both candidates agreed that the ongoing issues surrounding the renovation of Hyde-Addison Elementary, and the prospect of its students relocating across Northwest to Meyer Elementary for two years during construction, is the most significant issue facing their district.
"The Hyde-Addison project has been mismanaged since the very beginning," said Murphy, who pledged to seek swing-space alternatives. "It's been a trainwreck."
If elected, Miller vowed to sit down with D.C. Public Schools officials in an effort to draw out concrete answers about why decisions were made without community input.
ANC 2E is undergoing a major transition this year. In addition to Jones' departure, longtime members Tom Birch and current chair Ron Lewis opted not to run for re-election. Longtime Georgetown resident Jim Wilcox is running unopposed for Birch's 2E06 seat, and Joe Gibbons hopes to replace Lewis in 2E02.
Georgetown student Kendyl Clausen graduated from the university in May, and current student Mara Goldman was elected to 2E04 in her place and is now seeking a full term through a write-in campaign. Fellow student Reed Howard is also stepping down from 2E08, to be replaced by unopposed candidate Zachary Schroepfer. Both students said they're eager to be a part of the neighborhood and continue productive relations between students and residents. Ed Solomon of 2E01 and Monica Roaché of 2E07 are both running unopposed for re-election.
Other races within The Georgetown Current's coverage area, in ANC 3B and parts of ANC 3D, are not contested.
This article appears in the Oct. 26 issue of The Georgetown Current newspaper.