Operation Enduring Opportunity Reaches Georgetown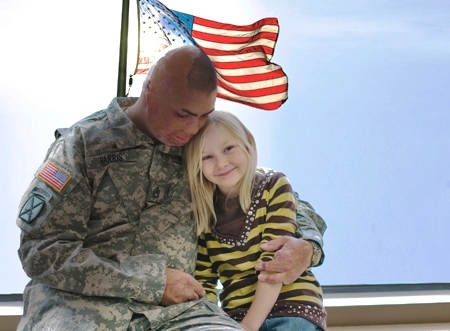 On Veterans Day, you might not think of going to a franchise business in Georgetown like Johnny Rockets, Subway, Five Guys, The UPS Store, or Fitness Together to honor our nation's veterans.
But this industry, led by the International Franchise Association (IFA) (for whom I work), has been engaged in a campaign to honor our nation's veterans not just with gratitude, but with opportunity.
IFA's new video, From Honor to Owner, is a moving new film highlighting the Operation Enduring Opportunity campaign. SSG Shilo Harris (U.S. Army, Ret.), pictured above, was struck by an IED in Iraq and burned on 35% percent of his body, yet he now is leading the way to rebuild our civilian economy by becoming a WIN Home Inspection franchise owner. To see Shilo's story and watch the video, click here.
Also, a new report shows over 64,000 veterans, military spouses and wounded warriors have started careers in franchising, including 4,314 new veteran franchise business owners, since 2011 through Operation Enduring Opportunity, a campaign of IFA's VetFran Strategic Initiative.
Johnny Rockets, Subway, The UPS Store and Fitness Together are all involved in the campaign. The UPS Store, taking the lead, has given away nearly 20 franchises to military veterans. U.S. Naval Academy graduate and Navy veteran Wade Franklin will open a UPS Store in Clarendon early next year.
These results are a great step forward toward IFA's goal of hiring as team members and recruiting as franchise business owners 75,000 veterans and military spouses, plus 5,000 wounded warriors by the end of 2014. But with unemployment rates for veterans ages 18-24 stuck at 24.8%, everyone must keep up the momentum to enable those who have served and sacrificed to fulfill their dreams and find meaningful career opportunities here at home.
You can view or download a copy of the report here: 2012 Veterans in Franchising: A Progress Report.
First Lady Michelle Obama, through her courageous efforts, has ensured that veterans have been welcomed home to a grateful nation, unlike after wars past. But Veterans Day, as we recognize the sacrifice and service of our men and women in uniform, let us join her in supporting those who are fighting for our veterans.