Open space, no wood s'il vous plait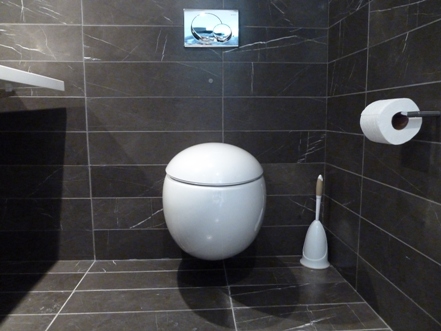 When you find a Bulthaup kitchen, an Alessi toilet not available in the U.S., a Waterworks bathtub, an Italian bathroom sink that drains from behind the basin, and walls covered in Calcutta marble, you must ask: Who lives here?
Wednesday evening at an open house to celebrate the completed renovation of a duplex condominium on 31st Street, we found out.
Turns out, it's a barefoot man with an infectious grin and clear blue eyes who knows exactly what he wants. For that, he turned first to Bulthaup. "I'd known Bruno for six years when we did his kitchen, general manager, Alison Tilley told The Georgetown Dish. "We did the kitchen and introduced him to Christy Schlesinger, and the rest is history." Schlesinger Associates Architects, that is.
As Christy says, "Bruno is unique and the best client. It was a nice melding of similar styles and vision."
And that vision? Bruno Lassus explains, "I like open space and no wood" His grin widens. "You see, my grandfather made wood furniture in France. We had so much of it …" Pressing for more explanation, "I like the cold of stone …" A few choice pieces of red gum tree wood custom cabinets, but otherwise, stone and tile and marble prevail.
As 42 Degree Catering prepared elegant appetizers in the kitchen, guests enjoyed the view. Developer Greg Rooney, vice president of The Bernstein Companies said, "This is exactly what Georgetown needs."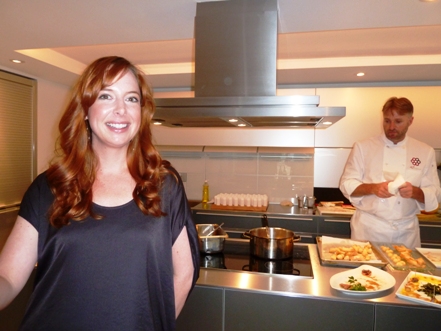 Classic modernism. Corbusier black leather sofas, Norman Foster dining table, large red abstract painting by contemporary Vietnamese artist. Sound by Bang & Olufsen. Bruno points proudly to the 1980's speakers he had rewired from 220 to 110 U.S. voltage. What you don't see is a television. Another grin, "I haven't had one for 30 years."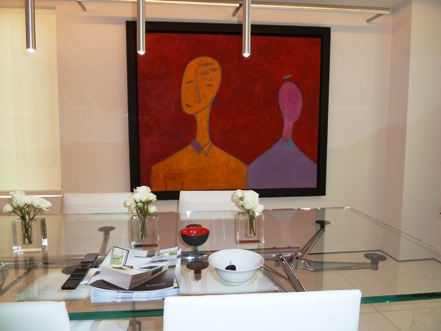 "I like to make people happy," Bruno said when I asked him what he does. Eventually I learned Bruno Lassus began his professional life as a medical doctor, then a dentist. Now, vice president at 3M Cogent Inc. conducting bio-metrics around the globe. Add photographer and kayaker to his vitae. And it was two years living in a tropical rainforest where he learned the joys of going barefoot. The better to enjoy all that cool marble under foot.