Culture
|
December 20, 2021
|
Once Upon a One More Time
Cinderella and Prince Charming as feminist manifesto.
Go see and enjoy Once Upon a One More Time now. It's a great big fun night in the theater. Whether it gets to Broadway is another question.  
After being shut for nearly two years because of the pandemic theaters around the nation are trying to fill seats. Turns out while not Shakespeare, Britney Spears music and name is bringing in the crowds. Seats are being filled with young people who may have never been to a Shakespeare play but now that they know where the theater is may come back. This was a really good decision by the Artistic Director of the Shakespeare Theatre Company, Simon Godwin. The show is on its way to becoming the best-selling show ever at Shakespeare Theatre Company's Sidney Harman Hall.  
Now I am not sure if everyone buying a ticket realizes this show is not about Britney, though with the recent headline stories her history could make for a perfect character for a Shakespearean tragedy. Rather it is a fairy tale turned into a feminist manifesto, told with much of Britney's music. The book by Jon Hartmere has woven great new renditions of Britney's songs like "Toxic," "Lucky" and "Oops I Did It Again" into the story; often used to wonderful humorous effect like when "Oops I did it Again" is sung by Prince Charming after he is caught cheating on Cinderella with Rapunzel. 
It was clear everyone on opening night was having a great time and were applauding showstopper songs and dance numbers often. The show begins with an adorable little girl, (played alternately by Adrianna and Mila Weir) asking to be read a bedtime story. She chooses to hear Cinderella. We are then introduced to many of the women in the fairytales we grew up with including Snow White, Sleeping Beauty, Rapunzel, Belle, and The Little Mermaid among others.  A short time into the action after Prince Charming finds Cinderella after the ball and returns her glass slipper, (which is used throughout the show to wonderfully humorous effect), Cinderella asks herself the question "What does it mean to live happily ever after?"  She wonders will her Prince Charming make her happy? That is when show moves into its feminist manifesto stage and really begins. It has us look at the state of society in the United States today for women, even making a statement on LGBTQ rights. We realize we are still coming up short. 
Then Cinderella meets OFG (Original Fairy Godmother) played wonderfully by Brooke Dillman, who introduces her to a book which turns out to be Betty Friedan's The Feminine Mystique. Cinderella is excited when she learns a woman can take more control of her life. OFG challenges her to go back and change the lives/stories of all her other fairytale heroine friends.  She gets them together in a book club to read the book together. She explains to them their lives are now written by a narrator and the show moves them to understanding they can actually rewrite the stories of their own lives themselves. Cinderella asks Snow White to think differently about her Prince who awakens her with a kiss, suggesting it may be looked at as if he took advantage of her; finding her in the woods unconscious and assaulting her rather than going to get help. I worked for Bella S. Abzug and know she would have enjoyed this show in many ways. It speaks of all the challenges women still face and urges them to stand strong and take control of their own lives. It is often done with humor in the show but that doesn't make it any less real. At one point Cinderella throws her shoe at the sky and it splinters the glass ceiling into a million pieces. Yes, they use everything to make the point. 
Lest you think Once Upon a One More Time is all serious know it's handled with great humor, great songs, and wonderful toe-tapping dance numbers. The extremely talented married team of director and choreographer Keone and Mari Madrid have done a good job. The choreography often reminds you of a Britney Spears Las Vegas show. They are working with a cast of incredibly talented actors, singers and dancers making for a fun night in the theater. 
Briga Heelan is wonderful as Cinderella and her Prince Charming is played to perfection by Justin Guarini who many may remember as the runner up to Kelly Clarkson on American Idol in 2003. He really is the star of this show.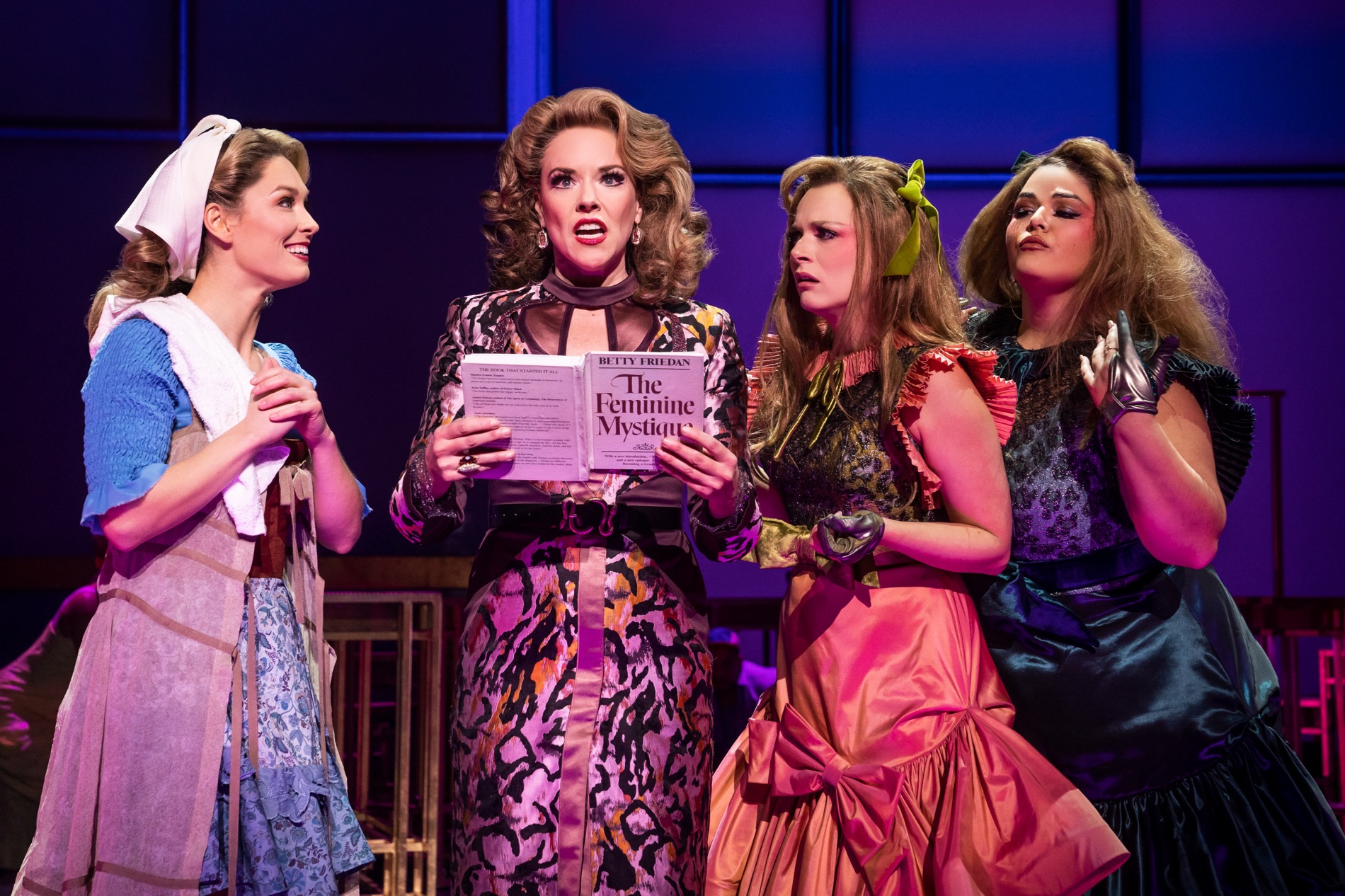 There are many highlights. Emily Skinner as the evil stepmother is great as is Aisha Jackson who shows off her acting chops and great voice, as Snow White. The Narrator is played perfectly by Michael McGrath. Mimi Scardulla is incredible as evil stepsister Belinda, her singing and dance numbers are great and when she does a full split on the stage the audience gasps in amazement. Ryan Steele as Prince Erudite is perfection as is Raymond J. Lee as Clumsy. Lauren Zakrin, The Little Mermaid, is riveting when she breaks into song as is Wonu Ogunfowora as Rapunzel. 
The creative team includes Sound Designer Andrew Keister, Costume & Hair Designer Loren Elstein; Lighting Designer Sonoyo Nishikawa, Projection Designer Sven Ortel, and Wig Designer Ashley Rae Callahan. All have done a great job to make this a wonderful night in the theater.
The show is in pre-Broadway mode and it appears that's a good thing. It doesn't seem quite ready for Broadway. The set design sometimes seems a little chaotic and there often seem to be too many people on stage at one time which can be distracting. Doors are moved around too often to create exits for characters to walk though when there seems to be no reason for doing it. The transitions from one great number to the next sometime feel as if there needs to be something more to bring them cohesion. The second act doesn't seem quite as put together as the first.  Yet each number on its own is wonderful.  This is why shows do out-of-town tryouts. It is my hope this show gets tightened up so Broadway audiences will get to see it. There is so much that is really great about it. This talented cast should be on Broadway. Call today for tickets because they are going fast. At Sidney Harman Hall through January 9th.