An Old Wine Culture Is Back With Loving CARE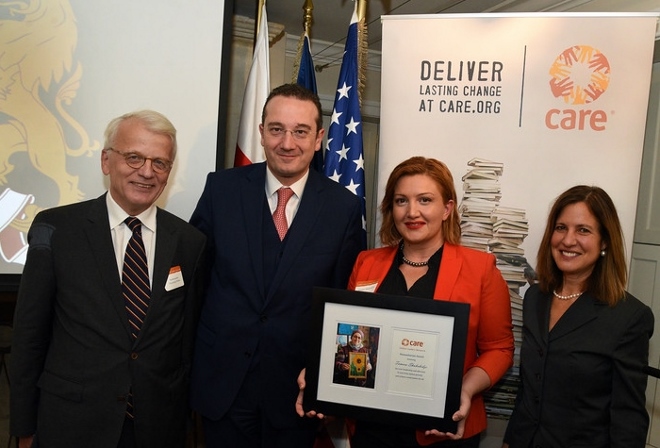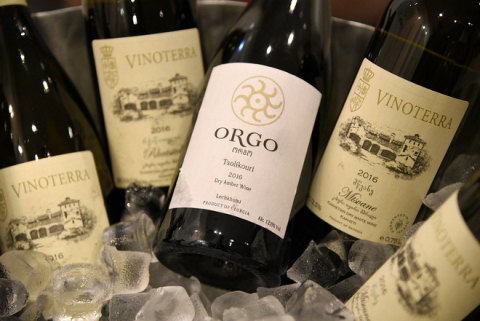 Georgia's reputation for hospitality with fine wines and delicious food has soared to diplomatic heights. Let's be clear – we're not talking about the U.S. state that includes Atlanta. We mean the independent European nation along the Black Sea that emerged from the collapse of the Soviet Union.
Old and new Georgian wines were uncorked Tuesday night at the embassy so the 80 invited guests could pay tribute to the philanthropic work of global humanitarian and development leader CARE, the organization that aided refugees and displaced persons after turmoil following wars and the end of Soviet rule.
The CARE Global Leaders Network, including business leaders, diplomats and members of the national security community who support the organization, joined the embassy to highlight CARE's work in Georgia throughout the years.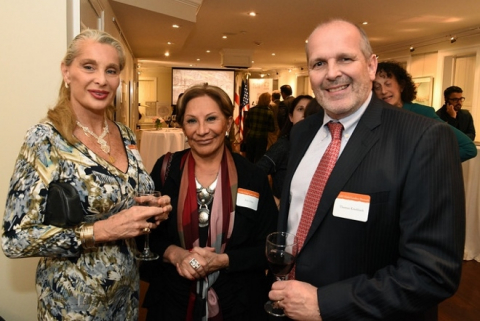 "Georgia is a model of commitment to civil society and democracy. This small but leading nation has risen to the occasion every time democracy in the region has been tested.," said Beth Solomon, CARE's managing director of external affairs. "CARE supports projects, from helping people with disabilities create and run businesses to support themselves to increasing the ability of small farmers through training and capital investments. CARE works to reduce poverty and advance the rights of women and girls, which is the only way to achieve just, democratic societies."
Georgia is now a hub of tourism, a wine industry, and is praised for its devotion to freedom. CARE has been a partner of the country in support of that success.
CARE's work has come at critical moments. Sofia Gegechkori, a native of Sokhumi Abkhazia, now public affairs counselor at the embassy, spoke of her experiences when she was 15. "I left my home on the last day it fell to the Russia-backed separatist forces, on a Ukrainian military ship coming to rescue a population fleeing the butchery.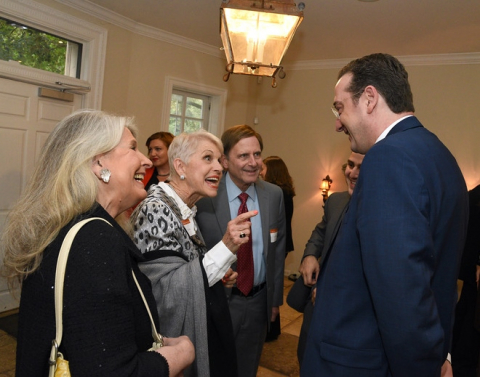 "The war leaves scars on our souls that do not really heal with time," she said. "But what you all can do for refugees of today fleeing the war zones, is not only providing food, but providing future…if not for the aid, I most probably would not be in front of you today.
"Humanitarian aid became vital for our survival. From those times, I can still picture USAID food packages from American people distributed by …agencies like CARE, and the local government of the newly independent, still-shaky country struggling together with us."
Georgia Ambassador David Bakradze took pride in pointing to his country's friendship with America.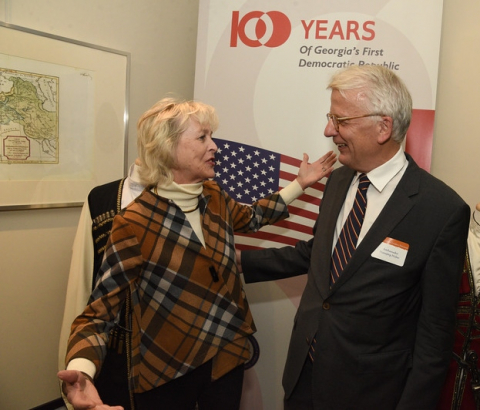 "The U.S. stands as a prominent ally and strategic partner of Georgia…Georgians stand shoulder to shoulder with American soldiers in Afghanistan to fight against terrorism through NATO missions."
Former German Ambassador and UN envoy to Georgia, Yemen and Turkey Hansjoerg Haber was presented with a Humanitarian Award. He underscored that it's high time for Russia to stop its intimidating ways and aggression against Georgia, which he said still continues to this day.
Among the guests were Ambassador Javlon Vakhabov of Uzbekistan and representatives of the embassies of Monaco, Jordan, Japan, Finland, Zimbabwe, Armenia, Morocco and Togo; and Georgia native Tamara Shukakidze, who has worked for CARE for 15 years and is director of Humanitarian Practice, Partnerships & Innovation.
A crew from the Voice of America recorded the Georgia program for its international use.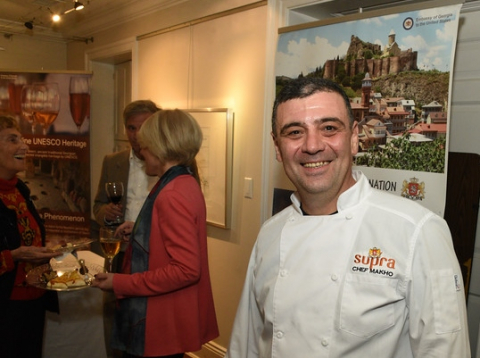 Also attending were columnist Alessandra Gelma of The Epoch Times, Charles Green of Mayor Eric Garcetti's office, Rania Kiblawi, Abla Khoursheed, Brett Greene, president/CEO of American Management Corporation; Lynda Webster of the Webster Group; Kiyomi Buker and Mami Kawano of the Embassy of Japan, Rich Tafel and Tony Raffa of Raffa, Ashkan Bayatpour, Linda Harper, board member of the International Student House; members of the Global Leaders Network Martha Rees, Ana Utley, Christy Walika, Janet Lewis, Barbara Hawthorn of the Boys and Girls Clubs of Washington; and Christine Warnke.
The next CARE Global Leaders Network reception is slated for Nov. 27 at the Australian Embassy.