Old Ebbitt Grill's Craft BrewHaHa Aug. 26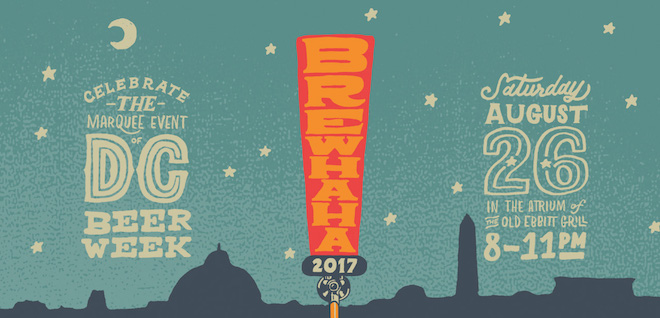 Old Ebbitt Grill's 5th Annual Craft BrewHaHa will be held on Saturday, August 26, 2017. The marquee event of DC Beer Week 2017, BrewHaHa features ten craft breweries and ten talented chefs showcasing some of DC's best food and craft beer. Guests will enjoy unlimited tastings of 20 select beers from craft breweries alongside 20 terrific tastes from top restaurants. Held in Old Ebbitt Grill's expansive atrium, the cocktail-style party features live music from headlining band Vintage#18.
"We are very excited to celebrate our fifth year of the Old Ebbitt Grill's Craft BrewHaha," says David Moran, Area Director of Operations. "Pairing craft beer with incredible chefs and great live music in our historic location is a perfect finale to DC Beer Week."
Participating breweries include DC Brau Brewing Company (Washington, DC), 3 Stars Brewing Company (Washington, DC), Right Proper Brewing Company (Washington, DC), Port City Brewing Company (Alexandria, VA), Evolution Brewing Company (Salisbury, MD), Old Ox Brewery (Ashburn, VA), Jailbreak Brewing Company (Laurel, MD), Flying Dog Brewery (Frederick, MD), Three Notch'd Brewing Company (Charlottesville, VA ), and Bell's Brewery (Kalamazoo, MI).
Participating chefs & restaurants include Travis Weiss (Rebellion), Mike Friedman (The Red Hen/All-Purpose), Kyle Bailey (Sixth Engine), Logan McGear (Smoke and Barrel), Scott Drewno (Chiko), Anthony Lombardo (Chubby Tomato Pasta Lab), Rob Rubba (Hazel), Zach Smith (The Hamilton), Jeff Eng (Clyde's Tower Oaks Lodge), and Salvatore Ferro (Old Ebbitt Grill).
Tickets are priced at $75/ all-inclusive and can be purchased online. This event is 21 and over.