OGB Approves Jonathan Adler Furniture and Reviews Other Design Requests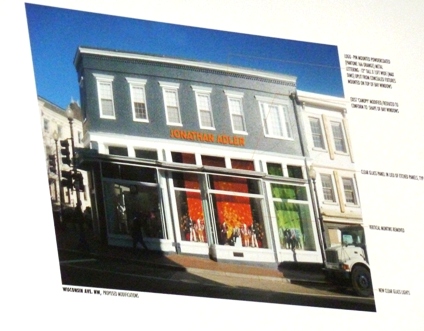 A designer furniture store, renovations to a boutique hotel, roof repairs, signage and revisions to a new addition, were among the more than 20 items brought before the Old Georgetown Board (OGB) and The Commission of Fine Arts Thursday.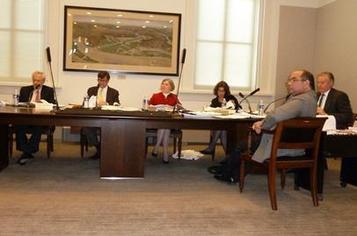 The OGB, which meets monthly at the National Building Museum, conducts design reviews of semipublic and private structures within Georgetown's boundaries and their recommendations for concept and permit applications are compiled, and then forwarded to the Commission of Fine Arts for final approval.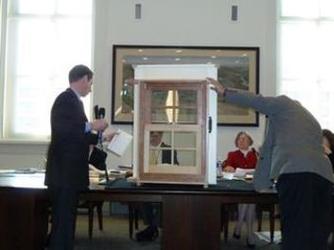 Brennan Beer Gorman architects presented plans for a rooftop addition and terrace for The Monticello Hotel on Thomas Jefferson Street. A proposal to change the original 1962 wood windows to aluminum and wood windows deemed more weather friendly was denied.
A concept application for Jonathan Adler furniture (formerly Gap Kids) at the corner of Wisconsin and N Streets was presented by Chris Gray of Cox, Graae and Spack architects on behalf of building owners, The Levy Group. Plans to modify the façade included an orange and grey color scheme, raising the canopy and a new awning with signage. Most of the proposed plans were approved.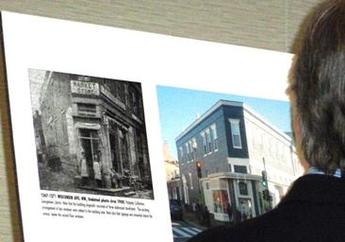 With the exception of a registration mark on the IMAX sign, a three-foot high signage scheme for the AMC (formerly Loew's) movie theaters on K Street was approved "because the scale is different under Whitehurst Freeway, "said board member Anne Lewis.
Alterations to a previously approved rear addition at 1525 Wisconsin Avenue were explained by structural engineer, Chuck Gavin. The exterior rear wall had been removed, he said "because deterioration was so extensive that it was brick sections, not a wall, and would have had to have been needled to prevent collapsing."
Approval for changes to the front and rear dormer and canopy were denied. While the addition had been made smaller than in the original plans, the board approved the current addition size. Advisory Neighborhood Commissioner Tom Birch and Citizens Association of Georgetown, as represented by Overbridge Horsey agreed that the addition should revert back to the original plans.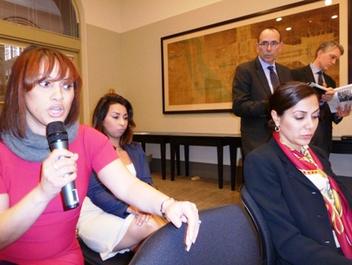 A public comment came from Christine Brooks-Cropper, Greater Washington Fashion Chamber of Commerce president, supporting the efforts made by building owner, Sara Mokhtari to work with neighbors on proposed design changes. While recognizing that some neighbors objected to the planned use of the new addition, board member Stephen Vanze said, " We're only approving aesthetics, not use. "