Ode to My Favorite Fragrance, Jicky by Guerlain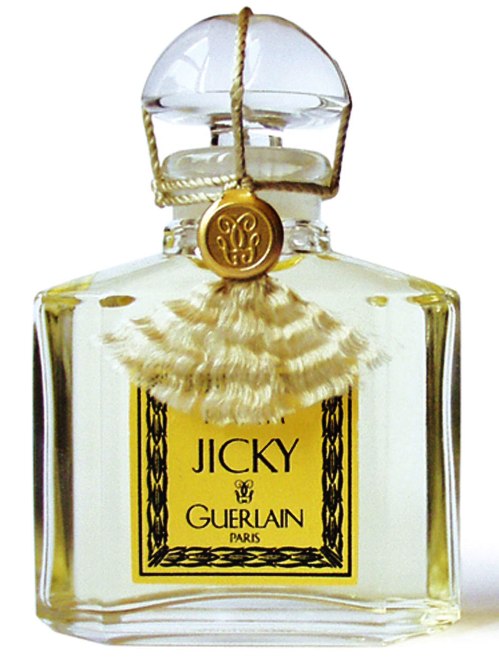 Last week, at the Women's Wear Daily (WWD) Beauty Summit, Francis Kurkdjian, a French perfumer, said that "Perfume is not a beauty product … perfume isn't even a product, because perfume is not visible." To me, that is part of perfume's magic – it is indeed invisible, but can elicit such powerful emotions and memories. As the sense of smell is my most developed, fragrance is an essential part of identity, mine and others. Today I wear the same fragrance as the one I wore at age 15, when I started wearing fragrance: Jicky by Guerlain. For those who know me, it will come as no surprise that I was introduced to it by my style mentor, my godmother Dominique.
Launched in 1889, Jicky represents one of the first modern perfumes because its formula incorporates not only traditional natural ingredients, but also synthetic ingredients (the first perfume featuring synthetic ingredients was Fougere Royale Houbigant, launched in 1882). While synthetic ingredients today are so often maligned, back in the late 1800s they were lauded and heralded as proof of the benefits of the industrial revolution, and industrial evolution.
Jicky was created by Aimé Guerlain, the son of Pierre-Francois Guerlain who founded the perfume house in 1828. The name Jicky is alternately attributed to Aimé's secret love (a woman), or to the nickname he gave his favorite nephew, Jacques. Before Jicky, perfume names featured nature or plant words almost exclusively. Jicky changed that. The beauty of the name, and part of what makes this the first modern fragrance (in addition to the use of synthetic ingredients), is that it is a unisex name. Is it the name of a woman? Of a man? Indeed, the house Guerlain decided it could be both, featuring an elegant couple riding horses in the fragrance's first advertisement. The cursive font used for the name was also a departure from the typical simple all caps style of perfume names.
In case I needed reasons to love this fragrance other than the amazing scent, based on bergamot, rosemary, lavender, rose, "fern harmony" with geranium, tonka bean, woods, vanilla and opoponax, among other ingredients, I learned recently that the Jicky bottle was designed by Gabriel, the younger son of Pierre-Francois, and Aimé's brother. I love nothing more than two brothers collaborating on a beauty product – except maybe four sisters! I also learned that Gabriel's inspiration for the bottle was an old pharmacy jar topped with a champagne cork. In all of these years that I have had these beautiful bottles on my vanity, the resemblance with the champagne cork never occurred to me … The original bottle, and the refillable gold bottles, are so beautiful I started a collection of Jicky bottles, adding to them a few other beautiful perfume bottles over the years (which I look at, but do not wear) …
Image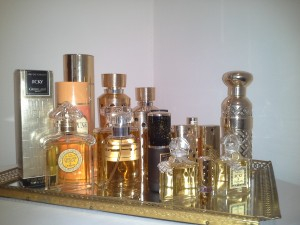 My perfume collection, featuring mostly Guerlain bottles, but also Chanel, Anvers, and a few others.
Unfortunately, Jicky has become ever more difficult to find. It used to come in perfume, eau de parfum, eau de toilette versions, in travel size, with soap and body lotion. Today, I am lucky if I can find the eau de parfum. I usually stock up throughout my travels when I find Jicky in true, old-style beauty boutiques and perfumeries that specialize in hard-to-find perfumes rather than the latest celebrity fragrances.