Observing Martin Luther King Jr. Day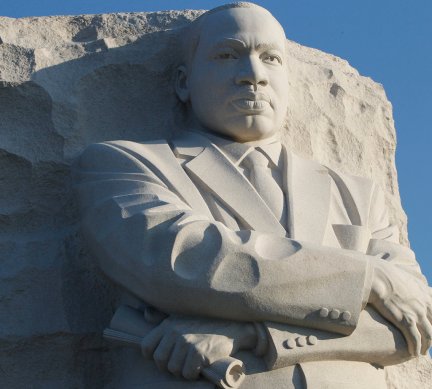 January 15th marks what would have been Dr. Martin Luther King Jr.'s 83rd birthday, but an observance of the work he accomplished takes place on Monday January 16th.
In addition to government agencies including the D.C. Department of Public Works and D.C. Department of Motor Vehicles closed for the day, local venues are doing their part to remember the civil rights leader:
1) Let Freedom Ring tribute concert at the Kennedy Center with Bobby McFerrin at 6:00 pm. See article on the concert here.
2) Annual Martin Luther King Jr. Parade starting at 645 Milwaukee Place SE, and ending on 4201 M.L. King Ave., SW. The parade begins at 11:00 am.
3) The National Museum of American History is holding a Family Festival that will include educational activities, interactive playing, discussions, and a musical performance from the Freedom Singers.
4) Washington National Cathedral will present the 14th annual concert and presentation of "King in Our Midst." Expect performances by School Without Walls Choir, Tony Keith, St. Augustine Gospel Choir, CityDance Conservatory Dancers, Malcom X Dancers & Drummers, Urban National H.I.P.-H.O.P. Choir, and WPAS Children of the Gospel Choir. Admission is a new children's book to benefit local charities.
5) At 8:00 am, the Washington, D.C. Martin Luther King Jr. National Memorial Project Foundation will remember M.L.K Jr. by laying a wreath on the Stone of Hope at the Martin Luther King, Jr. Memorial. Harry E. Johnson, president and CEO of the Foundation, Rev. Al Sharpton, host of MSNBC's PoliticsNation, and Robert G. Stanton, Senior Advisor to the Secretary of the Interior, Ken Salazar will speak at this ceremony.