By the Numbers!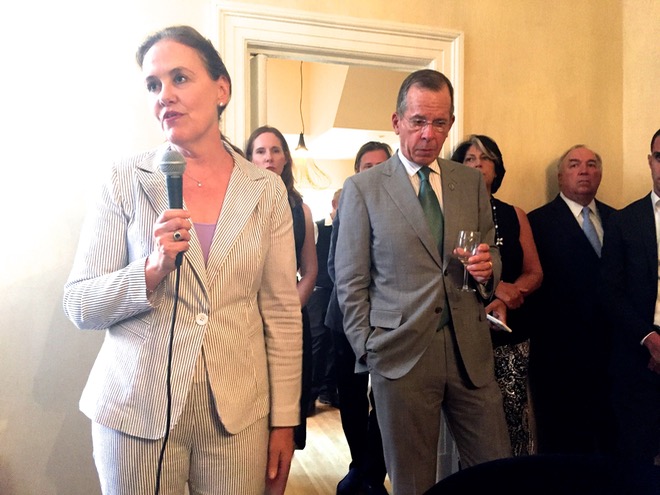 "It's a tiny investment for Americans that can help prevent conflicts, prevent state failure, help stabilize countries coming out of war – a tiny investment for big strategic impacts. I think tonight's about making that case." Adm. Mike Mullen, USN (Ret.) and former Joint Chief of Staff told Hollywood on the Potomac at a dinner in his and Michèle Flournoy's (CARE) honor at the home of Juleanna Glover and Christopher Reiter. The cause? CARE. Both are concerned about the possibility of fund cutting.
"It's really about trying to make a strategic case for why development assistance is in United States' strategic interest. We both served in the Pentagon and there is a national security case to be made for smart, effective development assistance. It's less than one penny on the dollar," he added.
Considered one of the most influential CJS as the top military advisor to Presidents George W. Bush and Barack Obama, Mullen is widely recognized as an "honest broker" by policymakers, Members of Congress and senior military officers with emphasis on strengthening the U.S. military and advocating for those who serve. "I think the whole issue of USAID, foreign assistance has been highly politicized in recent years, and there is a strong desire to pull back on that; and thus they've chosen to do that. The military can't do this stuff alone. I've been there. It doesn't work, it won't work in the future. The more we bleed this area the military is going to bleed in the future in conflicts around the world." Most recently, he is considered a hero in the LGBT community for telling Congress to allow medical care for transgender troops.
Michèle is co-founder and Chief Executive Officer of the Center for a New American Security (CNAS), a non-partisan think tank dedicated to developing strong, pragmatic and principled national security policies and joined the Board of CARE in 2014.