Nostrovia!: To The Wise Guard!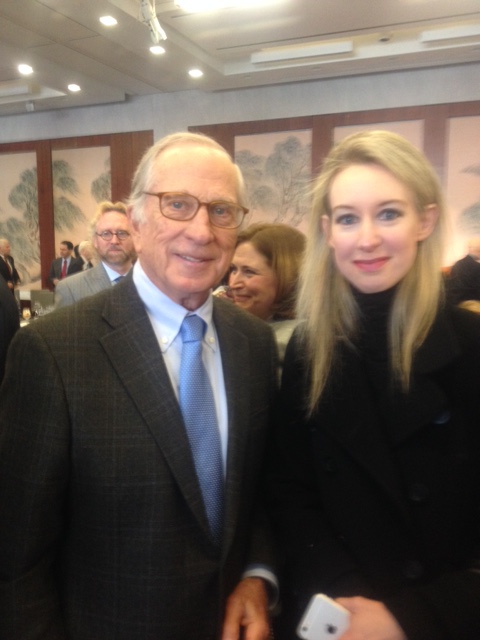 The Triple-A list of politicians (Henry Kissinger, Wisconsin Gov. Scott Walker, Mitt Romney, Indiana Gov. Mike Pence, etc.), corporate brass and generally influential folks, lunched at the pre-Alfalfa CSIS lunch Saturday in DC.
It was a Super Bowl of international power voices heard from the perspective of seasoned American leadership at the luxurious Rhode Island Avenue office building of the Center for Strategic & International Studies.
CSIS board chairman and former Georgia Senator Sam Nunn noted that it is not unheard of for the guests at the evening Alfalfa event to enjoy a drink or two. That, he said, puts him in mind of the preacher who hoped to warn a parishioner of the evils of drink. The preacher put a tiny worm in a glass of water. The worm, unharmed, swam to the top. Then he put a worm in a glass of Scotch. The worm fell to the bottom and died.
"Now what does this tell you?" the preacher asked.
"That I will never get worms," said the man.
In the swing of things, there was a chorus of praise among the some 280 guests for the exquisite Mondavi vintages – Hangtime Pinot Noir and Oberon Sauvignon Blanc. Michael Mondavi, of course, flew in from California to attend the Alfalfa events.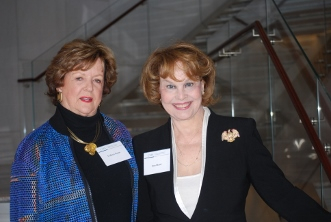 Kissinger, 91, who was verbally assailed by anti-war demonstrators at the Senate Armed Services Committee last week, showed up in fine fettle, despite that protestors had dangled handcuffs over his head in the hearing room.
Former Secretary of State George P. Shultz, 94, now at Stanford University, testified at the Senate hearing alongside Kissinger. (Luncheon guests who were at the hearing joked that Shultz told off the protestors in no uncertain terms.) At CSIS, Shultz again joined his pal to discuss still more turmoil, but this time between Russia and Ukraine.
Kissinger, Shultz, and Maurice "Hank Greenberg," all dubbed the "Home Run Kings of Foreign Policy" for the program, tackled the question of what to do about the Russian incursions into Ukraine.
Greenberg, CSIS trustee and CEO of C.V. Starr & Co., Inc., advised that the U.S. get tighter with China as a way to put pressure on Russia. "It's not in our national interest if China gets still closer to Russia."
Kissinger described his many encounters with Russian President Putin this way: "He is not a Hitler but a tough Russian Czar."
Shultz summed up the view of all panelists when he said: "We should be supplying arms and equipment to Ukraine. We don't need boots on the ground. There are plenty of Ukrainian boots on the ground now."
"We have got to squeeze them (Russia) harder," Nunn said about applying U.S. sanctions. "We are in a strong economic position and we have to play those cards very hard."
He also called for an immediate coalition of leaders in the United States and Europe to help deal with Russia's aggression.
CSIS is a nonprofit think tank that has advocated solutions to some of the world's great policy challenges. It focuses on defense and security; regional stability; and issues ranging from energy and climate to global health and economics
CSIS holds the annual lunch at its ultra-modern, tech-rich headquarters near DuPont Circle with an invitation-only spate of wise movers and shakers, many of whom are revered for their high-profile work in past presidential administrations.
Nunn recalled that at one point he was seriously thinking about running for president in the 1980's. What changed his mind? "Well I got this letter from a woman urging me to run because, "This nation has all the charisma it can stand!"
Luncheon guests included, among others:
Elizabeth Holmes, at age 30 worth an estimated $4.5 billion, head of Theranos, a medical service company she started at age 19 after dropping out from Stanford to use the money for her own startup. The soft-spoken D.C.-born billionaire has been profiled in The New Yorker and Fortune, and her board includes Nunn, Kissinger and Shultz.
The Hon. Lloyd Hand and his wife, jewelry designer Ann Hand; former congresswoman Jane Harman, president & CEO of the Woodrow Wilson International Center for Scholars; author Laura Liswood, secretary general of the Council of Women World Leaders; actress Lynda Carter of Wonder Woman fame.
Former Sen.Alan Simpson; Donna Shalala, University of Miami president; former chairman of the Joint Chiefs of Staff Peter Pace; businessman Frederic Malek; Aspen Institute CEO Walter Isaacson; Sen. Bob Corker; Sen. Lamar Alexander; Sen. Roy Blunt; David Boren, University of Oklahoma president; Sen. Patrick Leahy; Charles Schwab, founder & chairman of Charles Schwab Corp.; Ho-Young Ahn, Ambassador of the Republic of Korea; Theresa Fariello, VP of Exxon Mobil
Astronaut and former Senator John Glenn; former Senate Majority Leader William Frist; family members from Estee Lauder Companies Ltd.; Sen. Dianne Feinstein; former Secretary of Labor Elaine Chao; former U.S. Senator Charles Robb; DC lobbyist Brett Greene; former Secretary of Defense Robert Gates; former Sen. Kay Bailey Hutchison; and former Federal Reserve Chairman Paul Volcker.