Norwegian GETAWAY Baltic Cruise: Part IV
There are a few things a ship needs to make it a great cruise ship and the GETAWAY has them. One is of course the Captain. Then there is the General Manager who is responsible for literally everything from food and beverage, all the cabins, swimming pools and in general providing the great ambiance you want and Mario Markovic, the General Manager of the GETAWAY does all that. Last but certainly not least is the Cruise Director. He/she works from early morning to late at night, always smiling, ensuring the great entertainment and in general making sure each passenger always has a smile on their face.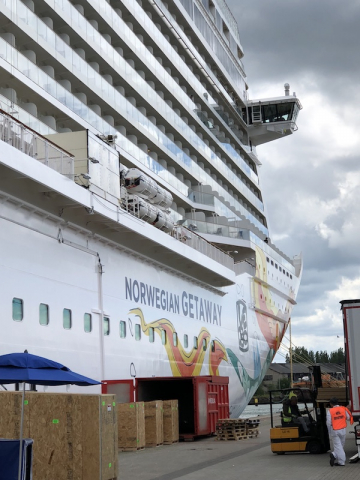 The Cruise Director during my time on the GETAWAY was Vincent Teschel and he did all that without breaking a sweat. I had the chance to chat with him for a short time and considered myself lucky as he was literally always on the go. He oozes charm and what's more that charm is backed up by a wealth of knowledge and experience. Vincent has been with NCL for five years and aside from the GETAWAY has worked on the Pearl, Sun, Star, and the Pride of America. Prior to that he worked on land at the Greenbrier resort in West Virginia, and was a traveling performer for ten years. The performing background is immediately visible when you meet Vincent as he is always performing in his job and that is a positive thing. He is entertaining people and does it superbly.
He was born in Pensacola, Florida and that is where he makes his home when he is not onboard ship. He is also clearly a young man with a big heart and is currently taking care of his elderly parents who live in Pensacola. I asked him what is the most fun of his job and he said he really believes if he is having fun all the time everyone else will be having fun. He says he tends to try to live on the lighter side of life and always looks at things from a positive perspective. That helps when you have a job like his with 150 people reporting to you and thousands depending on you to make their cruise memorable.
Vincent is thirty-three and once you get to know him a little better you realize more and more how his acting training adds to his ability to do his job. He went to college in the Circle in the Square in New York for Musical Theater and got his BFA in Music with a minor in Opera and Dance from Jacksonville University. He has traveled to over thirty-eight countries on five continents. On his own time he loves the Mediterranean and enjoys going back-packing where he can get off the grid. He finds that helpful and centering after always having to be on at work. He is also into yoga and goes to an annual yoga retreat. His contract with NCL like most of the staff is for four months on and two months off. But remember during the four months there is not one day off. I met Vincent toward the end of this current four month tour but you would never know that from watching him and talking with him.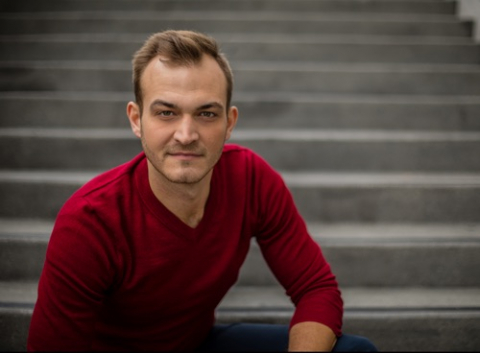 He has actually developed his own brand and he loves that. He is proud of being a fashion plate and owns twenty-seven suits from wild plaid to pale green and they are all with him onboard sharing his cabin. He has them made for him by a tailor in Colorado. I asked him what was the weirdest question anyone asked him and he laughed while answering. He said an older lady on one cruise came up behind him and grabbed his behind and said she was only checking if he was wearing any underwear as she couldn't see a panty line. I actually didn't ask him what his answer was but from watching him around the ship surely many more men and women would like to do that test on him.
*/
While his great sense of humor and perpetual smile can sometimes belie how serious he is about his job if you watch him for any period of time you know he gives total attention to even the smallest details making sure every show, every act, all the games, come off without a hitch and leave passengers smiling. He is a consummate professional and NCL is really lucky to have him.