Norwegian GETAWAY Baltic Cruise – Part II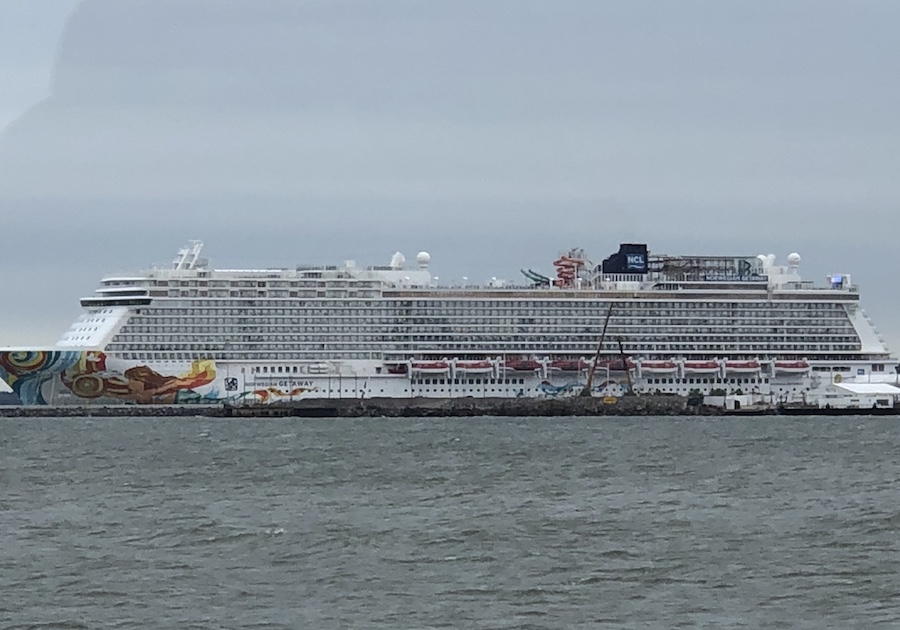 Day three on the GETAWAY dawned bright and sunny and cool. I had my usual breakfast delivered to the room; coffee, a muffin and orange juice and began to work on my book for most of the morning. With the balcony door open and the sun streaming in made for a really relaxing and enjoyable way to spend the morning. My friends texted me on the new Norwegian Cruise app which we had downloaded for $10 which allowed us to text and call each other and anyone else on the ship who had the app for the duration of the cruise. We arranged to meet at 1:00pm at one of the interesting restaurants on the ship, O'Sheehan's Bar and Grill. It is one of the regular options and I had a great Ruben sandwich. Then it was off for my meeting with Mario Markovic, the General Manager.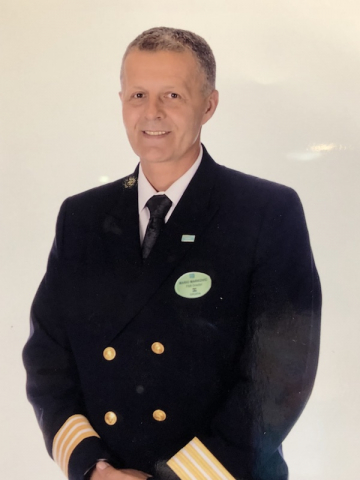 Like all the General Managers, again previously called Hotel Directors, he is a charming man with a wide range of knowledge of the cruise industry. My first question was why there had been a title change and when had NCL had done that. He said it was only about six weeks ago and he thought it was done to come into line with what the person doing his job in a hotel on land is called. It seems some people found it hard to believe that the Hotel Director was responsible for basically everything on the ship other than the engine room and the bridge which was the Captain's domain.
Mario told me he has been with NCL for about three years and this is his second stint on the GETAWAY. He was with the ship in dry-dock overseeing all the refurbishing though the detailed plans for what was done had been in the works for at least a year which isn't surprising considering the cost of refurbishing a ship. They only came out of dry-dock on May 24th and this was its second cruise since then. From the reactions to the public spaces I have heard from other passengers the refurbishment has been a rousing success. He said he and the crew were really pleased with it as well.
Mario shared with me he is from Zadar, Croatia, and he is clearly proud of his home town. When not on the ship he is there with his wife and teenage daughter. Zadar is listed as one of the best destinations in Europe. Mario has been at sea for twenty-five years working for a number of different cruise lines besides Norwegian including Celebrity and Carnival. His interest in the hospitality industry was stoked when he began working at a hotel in Zadar at the age of fourteen. He eventually got his degree in Hotel and Tourism from the University in the city of Rijeka in Croatia.
We were sitting in front of one of the specialty restaurants on the ship, Le Bistro, for our chat and he called a staff member and asked them to bring us some coffee from the Starbucks outlet onboard. It wasn't that he was unwilling to get it himself but the line was long and he didn't want to take away from the time we had to chat. If his phone call with staff and the interaction he had with the crew member who brought us the coffee are any indication of his relationship to his crew it is clearly great. His joking manner surely puts them all at ease. He told me on this cruise there were 3,400 passengers and a crew of about 1,650. He was responsible for about 1,400 of them. The other 250 were the responsibility of the Captain including deck hands and engineers. I asked him to try and arrange a visit to the bridge and he jokingly said he would tell the Captain to invite me, but I know that is up to the Captain on each ship. I had an amazing visit to the bridge of the Norwegian Bliss.
We chatted about the millions of dollars it costs to provision the ship for such a cruise and he explained that each area from laundry, to food, to entertainment has a budget which they prepare and then he goes over it with each director and must approve each one. It is really big business. He did explain he naturally uses the history they have on spread sheets of previous cruises to prepare the budgets and in essence they are done estimating income and expenses per passenger. Mario said it is easier to do on a large ship than on a small one as the variations per passenger per trip on a large ship aren't as great.
*/
My time with Mario passed quickly and one could easily tell how much he enjoyed his job and how good he was with people, both passengers and crew, which is the crucial part of doing his job well. When I got back to my stateroom there was an invitation to the Captain's VIP cocktail reception that evening in the Bliss lounge. Surely the efficiency of getting that out quickly fell to his secretary, Malou Colarte.