Norwegian GETAWAY Baltic Cruise: Part I
My nine day odyssey on the Norwegian GETAWAY has begun. After spending two wonderful days in Copenhagen it was time to board the ship and my friends and I left our hotel at 11:30am to do just that. Officially boarding began at noon.
I was traveling with Scott Moster and his husband Dustin Ruffatto and John Lanninen. Scott is my travel agent but this time he wasn't bringing a large crew of clients with him but rather traveling just for the fun of it. While John and I were in regular balcony staterooms Scott and Dustin were in the Haven, the elite section of the ship. When we arrived for check-in we joined them in the special line for Haven passengers. The clerks were gracious and as always when boarding a Norwegian Cruise ship it all went really smoothly. After a seamless check-in we were given our boarding cards and by 12:30 a crew member had already offered us our first welcome drink. Turns out the staterooms weren't available till 1:00pm but with drinks in hand that didn't seem an issue at all. When we did get into our staterooms we found them really nice and roomy. Plenty of storage.
On the bed was a Day 1 schedule and tickets for the two excursions I had booked in advance. Missing was the usual letter from the General Manager (previously called Hotel Director) letting me know the PR Department had let him know I was going to be onboard and wanted to interview him. Seems there was a slight communication problem but as usual the person who is always quick to clear things up and handle any issue for any passenger on a Norwegian ship, the Secretary to the General Manager who on the GETAWAY is Malou , had everything worked out efficiently and quickly.
On the first afternoon I wandered the ship and was very impressed with how fresh and vibrant everything looked. I found out when I did sit down to chat with the General Manager, Mario Markovic, why that was. The ship had only come out of dry-dock less than three weeks ago after going through a bow to stern refurbishment. It is really beautiful. Very reminiscent of the newest ship in the fleet the BLISS which I had the pleasure of taking on its inaugural cruise through the Panama Canal. That evening we went to the scheduled LGBTQ meet and greet in the Sunset Bar. This was the first time on a Norwegian ship that they finally left of Friends of Dorothy when listing that event. I think I had something to do with that when on the EPIC we had the cruise director change it suggesting to him that no one under forty had any idea what that was. Since Scott hadn't booked any big group on this cruise and a few of the other travel agents who specialize in the LGBTQ+ community also hadn't there were not many people there. But the few that were made for great company and I am sure we will see them and meet other members of the community during the cruise. We had made reservations that evening for dinner at Cagney's one of the specialty restaurant on the ship. It is a steak restaurant and the food and service were good. It was to be an early night.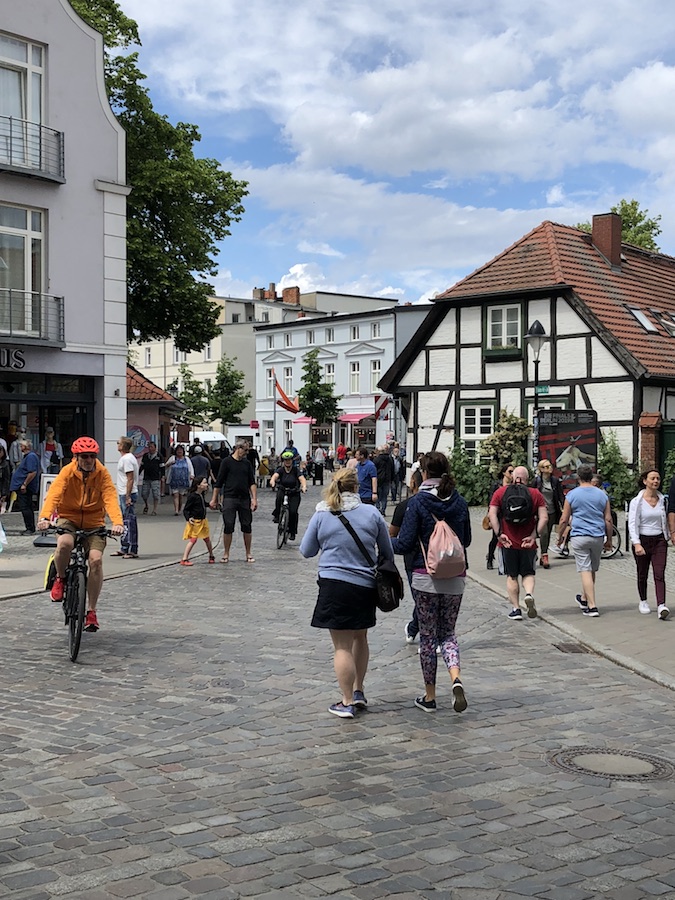 The next day dawned bright and clear as we docked in Warnemunde, Germany. My friends had arranged to take a tour to Berlin which was about two hours away. It was going to be a ten hour day off the ship for them. Having been to Berlin before I decided to stay on board in the morning, writing and going to the gym. At about noon I left the ship for my own two hour walking tour of Warnemunde which turned out to be a charming town. I spent the afternoon relaxing in the sun and heard from Malou that Mario would have time the next day, a day at sea, to sit down and chat with me. When my friends came back on board from their trip to Berlin we all met at the Sunset Bar where the LGBTQ meet-up was scheduled and nine of us went to dinner at Savor, one of the regular restaurants for which you don't need a reservation and for which there is no additional cost. There are eight specialty restaurants on the ship which do have a supplemental charge and there are five and the Garden Café Buffet which are included in the basic fare. The food at Savor was ok though some of the dishes came out a little less than hot. But all-in-all it was an enjoyable dinner with good company and the staff in the restaurant, like all Norwegian Cruise Line staff, were great. By the time we finished dinner it was nearly 11:00 pm and most of us went to bed while a few went to find entertainment and there is much to do on the GETAWAY till late in the evening.
*/
Day three was to be a sea day and I was looking forward to that. I also had my chat with the General Manager scheduled for 3:00 pm.