Nora Pouillon's Ratatouille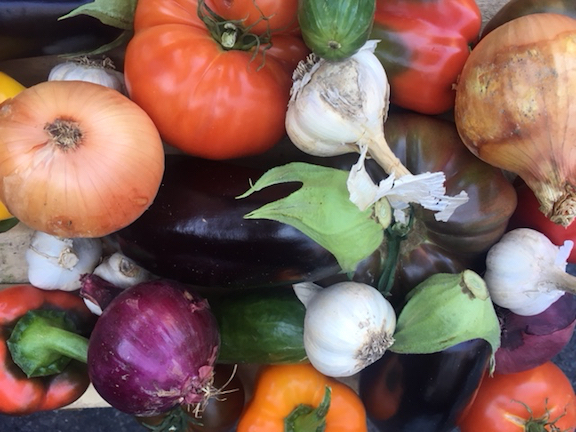 Nora Pouillon's Ratatouille
Adapted from "Cooking with Nora"
And Excerpted from Diet Simple
Ratatouille is an authentic aromatic Provençal ragout of onions, eggplants, peppers, zucchini, and tomatoes, stewed slowly in olive oil and flavored with garlic and fresh herbs. At the Dupont Circle Fresh Farm Market, I recently found every vegetable and herb needed for this amazingly tasty and versatile dish - all from Twin Springs Fruit Farm stand from Ortanna, Pennsylvania. The farmers travel 90 miles to provide us city folks with the freshest, juiciest, most delicate fruits and vegetables to be had - not to mention the extraordinary nutrition they provide!
Cutting up the vegetables is time consuming and that is why I like to make double or more than the amount I need and use the leftovers ...
• at room temperature the next day with grilled chicken or fish.
• mixed with eggs and cheese for a Quiche Provencal.
• heated up and stirred with beaten eggs, spiced with chilis and served with sliced ham, Prosciutto, or cooked lean sausage as Piperade or Basque dish.
• reheated and used as sauce for freshly cooked pasta, garnished with feta or goat cheese, with the addition of pitted black olives if desired.
• As Minestrone, heated with vegetable or chicken stock, adding a can of drained cannellini beans and maybe a spoon of pesto on top.
The trick of a good ratatouille is not to overcook the vegetables. They have to be added one after the other, depending on the amount of time they need to cook to be just tender. Of course, Nora recommends all the vegetables be organic.
6 - 8 servings
1/2 cup olive oil
1 large onion, chopped
1 Tablespoons garlic, minced
1-2 eggplants (2 lbs) cut into 1-inch cubes
2 peppers, red, green or yellow, cut into 1-inch squares
2 zucchini (1.5 lbs) cut into 1-inch cubes
1.5 lbs tomatoes, peeled and cut into 1-inch cubes
salt and freshly ground black pepper
1 Tablespoon thyme, minced
1/2 Tablespoon rosemary, minced
2 Tablespoon parsley or basil, minced
Heat the olive oil in a large skillet until hot.
Add the onions and stew for 10 minutes until soft. Add the garlic, then the eggplants and peppers, cover and cook slowly for 20 minutes.
Add the zucchini, cook for 5 minutes, then lastly add the tomatoes and cook for an additional 5 minutes or less.
Season with salt and pepper and the minced herbs.
Calories 220 Percent of Daily Value
Calories from Fat 150
Total Fat 16g 25%
Saturated Fat 2g 11%
Cholesterol 0mg 0%
Sodium 15mg 1%
Total Carbohydrate 18g 6%
Dietary Fiber 6g 22%
Soluble Fiber 1.13 g
Omega 3 Fatty Acids 0.14 g
Sugars 10g
Protein 3g
Vitamin A 60%
Vitamin C 160%
Calcium 4%
Iron 8%
*/
*/
*/
*/
*/