Nonprofit Links Sponsors to Home Repair Projects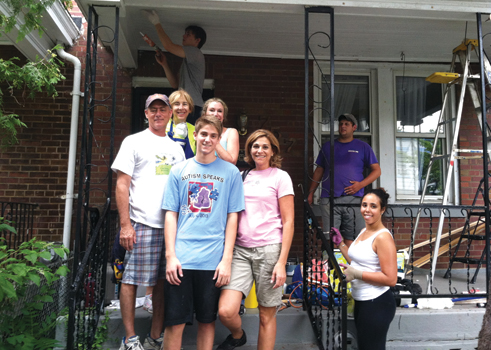 By Deirdre BannonCurrent Correspondent
On a steamy Sunday afternoon this summer — one that might be best suited for relaxing with some iced tea on a porch — a house on Morton Street in Columbia Heights was instead buzzing with activity. A teenager was putting a fresh coat of paint on the dining room walls. A woman was power-washing the wood deck just off the kitchen. And several adults were clearing brush from the spacious backyard.
The homeowner, Maureen, was pitching in everywhere, with a broad smile on her face. She's one of the inaugural recipients of the "Neighbor to Neighbor" home-improvement program from Yachad, a local nonprofit based in Dupont Circle that, among other things, helps low-income homeowners repair and maintain their properties.
Maureen, who asked that her last name not be used, grew up in this house on the 700 block of Morton Street. She moved away as a young adult, and then bought the house from her sister about 18 years ago.
Now in her 60s, Maureen has maintained the home as best she could, but some of the bigger repairs had become overwhelming — and not knowing what to do, she found that that feeling worsened over time. One of the most intimidating and problematic repairs was her basement, which flooded almost every time it rained.
Then, through a friend at her church, she learned about Yachad.
"I went from overwhelmed to empowered, thanks to Yachad," Maureen said as she took a quick break from repair work that afternoon in July.
Maureen was selected as one of the first participants in Neighbor to Neighbor, a new initiative for Yachad that matches corporate sponsors with individual homeowners in need of help with big repair projects and home maintenance. Nancy Taylor Bubes, a Realtor with Washington Fine Properties in Georgetown, was the first corporate sponsor to sign up for the program, and she was matched with Maureen.
Sponsorships start at $10,000 per home; Yachad then coordinates with contractors willing to provide services for reduced fees, so that donated $10,000 can turn into $20,000 or $30,000 for big projects like roofing, plumbing or electrical work, according to Kendra Rubinfeld, program director with Yachad. Donors, if they so choose, can also volunteer their help with certain elements of the project, like painting, minor carpentry or yard work — which Taylor Bubes did with a team of volunteers she recruited.
What sets this program apart from similar home-improvement efforts is that the homeowners not only receive help with house repairs, but they also participate in a series of three workshops, totaling about 10 hours, on topics including do-it-yourself maintenance, knowing when and how to hire a contractor, budgeting for such projects, and further financial counseling.
The goal is to not only assist with a one-time effort on a big project — like Maureen's basement, which professionals repaired thanks to Taylor Bubes' donation — but also to give homeowners the tools they need to stay on top of home maintenance going forward, said Rubinfeld. And that's exactly how Maureen feels about her experience with Yachad.
"When I go to Home Depot, it's so much fun now," said Maureen. "I know how to analyze home-repair problems — I can do research, figure out how long it would take me to do it myself, what tools I might need, and how to save costs on the repairs." She also feels she knows enough about various home-maintenance issues that if she needs to hire a contractor, she'll know how to handle it.
Yachad will be there for ongoing help, too — the nonprofit maintains relationships with the homeowners, who can reach out to Yachad staff members and workshop instructors anytime they have a question.
The program's "neighbor to neighbor" intention extends to the sponsors as well. Taylor Bubes, who was hands-on at Maureen's home repair event in July, plans to stay in touch with Maureen and help out with any questions or concerns she has.
"As a Realtor, this kind of project relates to our business," said Taylor Bubes, who started volunteering with Yachad about four years ago. "Everyone in our industry knows a plumber or a painter or an electrician. It's a win-win for everyone when we help connect people with resources they may not have."
For the house repair day at Maureen's, Taylor Bubes brought together a team of volunteers that included agents in her office as well as family members and friends. And despite the heat and humidity, everyone was all smiles, laughing their way through a long day of labor.
"Everyone needs a comfortable place to sleep — it's essential," said Taylor Bubes. "Anything we can do to help make someone else's home a little bit better is so worthwhile."
She's hoping others in the industry will follow suit.
So far, Yachad's program is gaining traction, with plans to sponsor 10 home repairs this year. The organization has four local corporate sponsors for this initiative — JBG Cos., Forest City Enterprises, Bernstein Management Corp. and Washington Fine Properties — as well as individual donations from local philanthropist Irma Poretsky and other Yachad board members.
Yachad, which is a Jewish organization (Yachad means "together" in Hebrew), helps homeowners throughout the greater Washington area. For details visit yachad-dc.org.
This article appears in the Fall Real Estate Guide in the Sept. 18 issue of The Georgetown Current newspaper.