Nobel Peace Prize Nominee, José Andrés In My DC Kitchen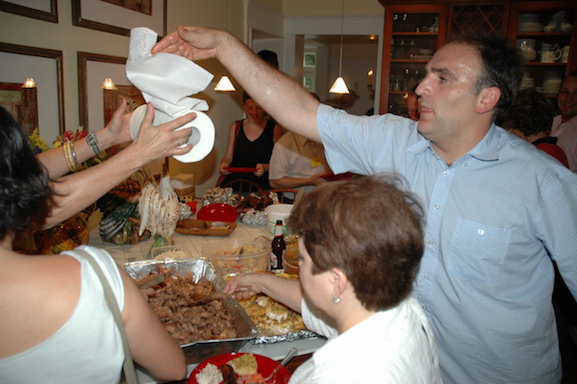 Food security promotes peace. The power of food provides people health, and happiness, and can help raise them from poverty, advancing their education and involvement in the world. And that is worth something! This has now been acknowledged by the enlightened nomination of local chef and hero, José Ramón Andrés Puerta, known as José Andrés, for the 2019 Nobel Peace Prize, as reported by Janet Donovan in November 27th's Georgetown Dish.
José began his American career with the opening of his tapas restaurant, Jaleo, in 1993 in Washington, DC.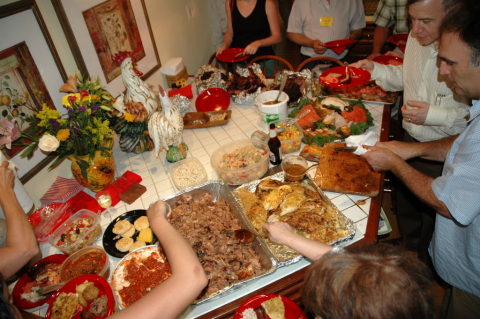 At the time of Jaleo's opening, I interviewed José for the University of the District of Columbia's Public Radio Station (with a colleague). During that interview at Jaleo, José was generous, enthusiastic, and passionate; I was impressed by his sheer joy about food, life... everything. The small bites he served were delightful. Then, this twenty-something, a fresh immigrant from Spain, shared his future ambitions with us. They were fantastical aspirations only few could imagine, and even fewer could achieve. It seems he exceeded his!
José was a leader and award-winner among Washington, DC chefs soon after he arrived. His talent, energy, and hospitality fueled his popularity; and it grew swiftly, along with his many restaurant openings, and causes in which he founded or participated.
I had the privilege of working alongside José on several occasions through the years. During the 2005 Smithsonian Folklife Festival, featuring "Food Culture USA," and curated by my friend and colleague, Joan Nathan, José and I performed a food demonstration on-stage together (actually, José performed, as I stood beside him agog at his performance). He made gazpacho for the dazzled crowd (mainly a sprinkling of veggies pureed in a sea of - Spanish - olive oil!)... Something happened that afternoon that I've told very few, and it even slipped my mind until putting this piece together: There was a woman at our demo who worked in an important capacity with the Smithsonian who was very surly toward me; she even tried to keep me from talking. She didn't think the topic of "nutrition" belonged at the festival (that was a general attitude among food enthusiasts at the time, and still lingers today). When José noticed her churlish reaction to me, he took me aside and assured me that I - and nutrition - were appreciated, and he encouraged me to ignore her and get out there and perform! This act of kindness, shown to me during a private, seemingly unimportant moment, was clearly prescient...His goodness has become legendary, and his interest in nutrition and food science are now commonly known.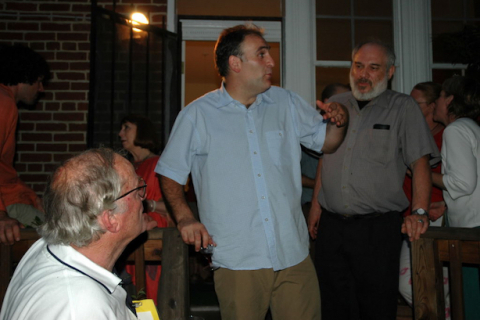 At the end of the two-week "Food Culture USA" Folklife Festival on the swelteringly hot National Mall (it is held annually in July!), Joan Nathan planned a thank you celebration for the generous and self-sacrificing volunteers and chefs ... at my place. Among them, José Andrés.
José is as down-to-earth as they come. I see him occasionally in the 'hood, wearing an old t-shirt and jeans (forgive me, José), and always graciously responding to the few who might approach him.
Andrés emerged as a leader of the disaster relief efforts in Puerto Rico in the wake of Hurricane Maria in 2017. He organized a grass-roots movement of chefs and volunteers to establish communications, food supplies, and other resources and started serving meals. Andrés and his organization World Central Kitchen (WCK) served more than two million meals in the first month after the hurricane, according to Wikipedia.org.
"Named as one of Time Magazine's '100 Most Influential People' in both 2012 and 2018, and 'Outstanding Chef' and 'Humanitarian of the Year' by the James Beard Foundation, Andrés is an internationally-recognized culinary innovator, author, educator, television personality, humanitarian and chef/owner of ThinkFoodGroup. Andrés' restaurant group includes 31 restaurants, ranging in a variety of culinary experiences from food trucks to his multi-location vegetable-focused fast casual, Beefsteak, and world-class tasting menus like Michelin starred Minibar by José Andrés," according to Jaleo.com
"Andrés is the only chef globally that has both a two-star Michelin restaurant and four Bib Gourmands. As a naturalized citizen, originally from Spain, Andrés has been a tireless advocate for immigration reform. Together with World Central Kitchen and #ChefsForPuertoRico, Andrés has served over 3.5 million meals in Puerto Rico following the devastation of Hurricane Maria in 2017, reaching communities in need across all 78 municipalities through 23 kitchens. Andrés has earned numerous awards including the 2015 National Humanities Medal, one of 12 distinguished recipients of the award from the National Endowment for the Humanities," according to Jaleo.com