No More Kicking the Pot Down the Road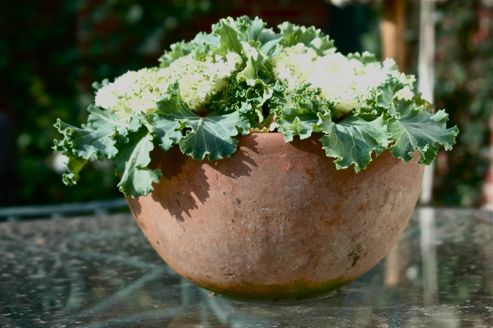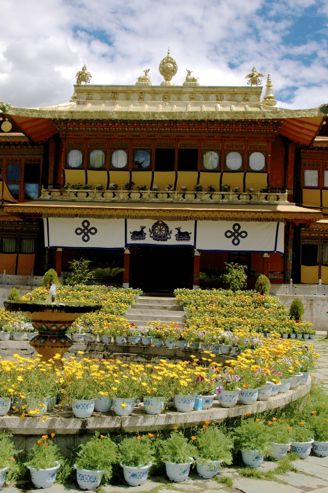 With everyone in a dither about sequestration and the prospect of more mismanaged manufactured budget crises to come, I feel it is incumbent upon me to remind my readers of a more important reality. There are daffodils blooming along the GW Parkway. Take note.
Spring starts this month and will bring with it a crisis of my own, one I've been reluctant to face: It's high time I replace my flowerpots. They are as predictable, washed-up, and tedious as the rhetoric surrounding our recurring budget predicaments. I just can't keep kicking the can down the road. If you are in the same boat, I exhort you to come up with a grand package of old pot cuts and new pot replacements which will undoubtedly lead to a much brighter future for you and future generations. Well, something like that.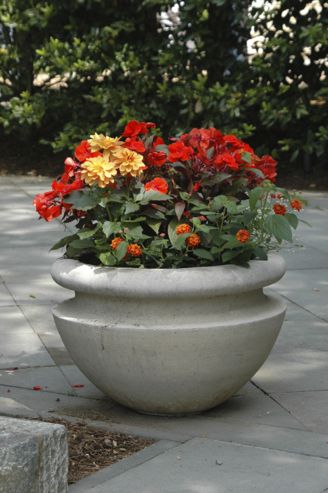 The importance of pots became clear to me several years ago when I got caught up photographing a gorgeous pair outside a Barcelona restaurant. The restaurant wasn't much, but the pots were gorgeous, colorfully painted ceramic. They were an unusual choice and were eye-catching on the small bustling street. As I clicked away unperturbed by passersby on the narrow sidewalk, it too-slowly dawned on me that the perfectly shaped, disease free boxwoods in the pots were plastic. Now, I usually pay very close attention to plants, but on this occasion, the beauty of the pots completely arrested my attention. My conclusion? The pots matter as much as the plants, and sometimes, even more.
This conclusion was reinforced a few years later when, by contrast, I was riveted – not in a good way -- by the countless pots of yellow, orange, pink, and purple flowers that are placed in masses all over the grounds of the Dalai Lama's Summer Palace, Norbulinka, in Lhasa. They were disappointing, to say the least, a sea of small, cheap, blue and white pots. Their volume created an overwhelmingly incongruous element in this serene landscape that clashed profoundly with the surrounding earth-toned beauty of the buildings and grounds. The charm of the over-exuberant flowers could not compensate for the dissonance.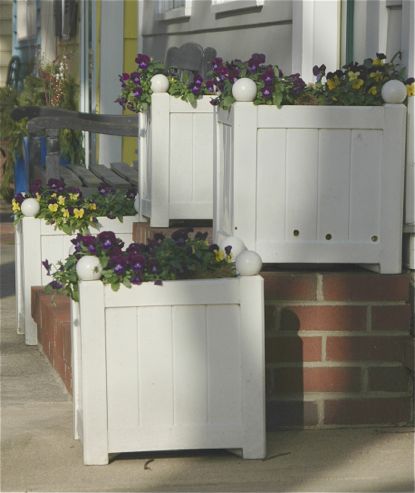 This is a long way of saying that you should choose your containers and pots carefully. There are four things to consider when you choose your pots: Size, material, color, and style. If you are a rooftop or balcony gardener, you need to add weight to the list, but weight is such a sensitive issue. Suffice it to say that "less is more".
As we all know, size matters. I once was "on site" with the British garden designer and author, John Brookes. As we stood before the entrance of a grand country house, the massive steps of which were cluttered with an abundance of small terracotta pots all planted in purple and white, he remarked that it looked like a display at a country flower show. He quickly replaced them all with great built-in planters and four giant Compton pots that balanced the massive steps and door perfectly. It made the point about size – and scale -- rather well.
Material matters especially when durability is wanted. Unless you are planning on emptying your containers and schlepping them to the garden shed each fall, it's best to invest in pots that won't crack in freezing weather. A few delicate pots can always be mixed in, keeping the schlepping to a minimum. Cement pots can easily withstand extreme temperatures and the cycle of freezing and thawing. They can be just the thing in a stylish garden but cement pots without style, of which there are far too many, can detract from the garden. The best have simple clean lines that make an edgy statement and can stand up to strong colors and textures.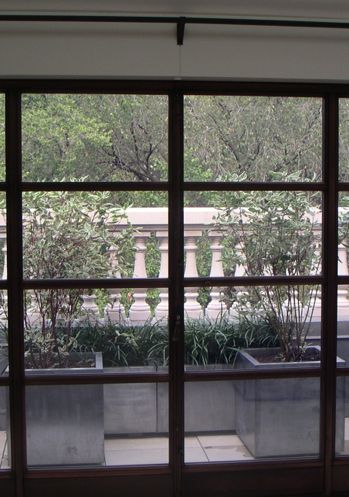 For a less formal and more useful look, Robin Lane Fox makes a wonderful argument in favor of using metal waste bins and buckets for growing edible plants, (Financial Times, March 2-3, page 16). They are durable, can be punctured with drainage holes, and are light enough to be easily moved when necessary. Just the thing for an informal space.
Materials are also a driver of style. I adore Versailles boxes made of wood (they can
now also be purchased in acceptable fiberglass and other long-lived materials), especially in traditional gardens with Southern or French elements. Recycled materials can also work well and often add a little humor to the garden. Who hasn't seen bicycle baskets, work boots, or tires used as planters? If this is your thing, I know where you can find a striking ceramic bidet-cum-planter for sale in Georgetown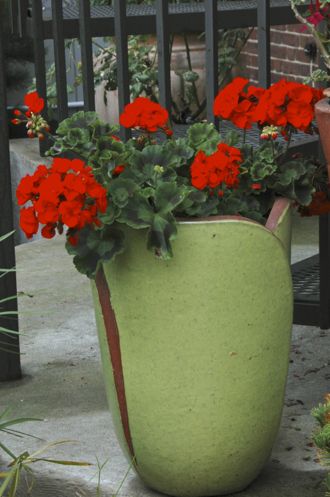 Metal containers can be very chic in contemporary settings. I once designed gray metal planters to match a client's gray leaded copper trim on a Manhattan roof deck. Not only did the planters blend well in the outdoor spaces, they were very visible from the interior and their minimalist effect
worked well with the subtle, soft colors and lines inside.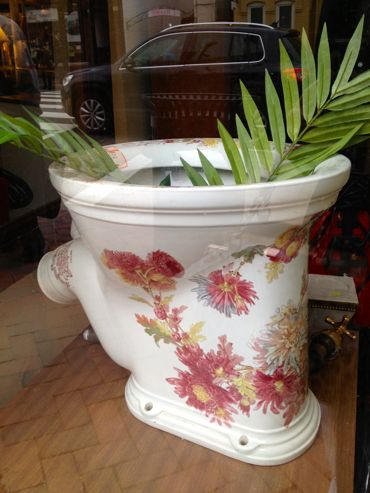 The choice of color plays a role equal to material. Color opens up so many possibilities! As lovely as Italian terracotta can be, there are many other options one case use to punch things up. Blue pots have become quite popular in the past ten years and work well especially in gardens near water or swimming pools. Other colors work beautifully, too. A clever move would be to select pots that match the interior of adjacent rooms in your house and to connect the two spaces visually. Be careful to avoid containers that clash with the style and other features in your garden, however. Think Norbulinka.
And then there's style. Traditional, modern, whimsical – the possibilities are enormous. I've always believed that true style is determined neither by trend nor tradition. To me real style is about being at home in your own skin – or garden. To that end, your pots should reflect what pleases you – whatever makes you smile.
So, there is no need for a shut down. Instead, sequester those old pots and go for a new look. You won't need a meat cleaver.