No matter the accent...it's all about your heart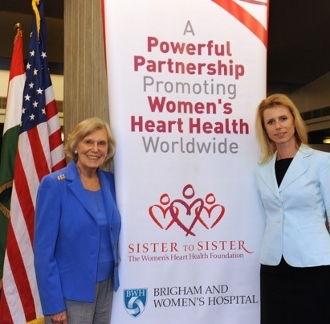 Keeping it healthy and upbeat at a World Bank private dining room Tuesday were cooks who gave proof that at lunch, one can eat smart and deliciously in any language.
About 130 representatives, mainly from the diplomatic community, gathered for the International Heart-Healthy Luncheon in D.C. The health-fest was a prelude to next week's United Nations Summit on the Prevention and Control of Non-Communicable Diseases in New York City.
And right here in D.C., five embassy chefs are cooking healthy foods all this week at the World Bank cafeteria: Lars Beese of Denmark, Ms. Frida Johansson of Sweden, Viktor Merenyi of Hungary, Ms. Jitapa Haoharn of Thailand, and Yordan Dimitrov of Bulgaria.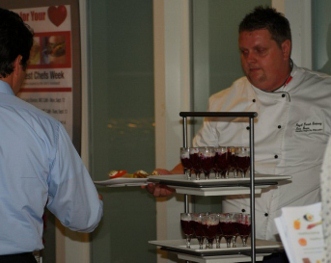 "Today we are reaching out to the world" with the message that heart disease is the Number One killer of women worldwide," said Mrs. Irene Pollin, founder and chair of the Sister to Sister Foundation, which has been in the forefront of educating women about the risks of heart disease and its link with obesity.
Women diplomats, wives of diplomats, medical doctors, politicians and other invited guests heard the message that the time-tested adage -- you are what you eat -- is pretty much on the mark. Yogurt, nuts, fruits, whole grains, vegetables, vegetable oils, and fish and seafood are a key to a healthy diet, said Dr. Dariush Mozaffarian, associate professor at the Harvard School of Public Health's Department of Epidemiology. Dr. JoAnne M. Foody, director of the Cardiovascular Wellness Program at Brigham and Women's Hospital seconded his diet message. Dr. Esther Brimmer, assistant secretary of International Organization Affairs at the U.S. State Department, underscored the importance of the upcoming meeting in New York.
Danish Ambassador to the U.S. Peter Taksoe-Jensen, in his welcoming address, spoke about the significance of diet for women no matter where they live on the globe.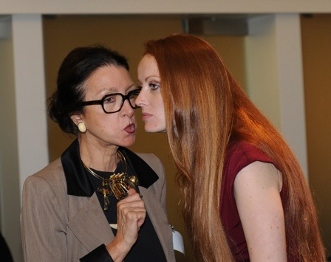 Attendees included Elizabeth Kucinich of the Physicians Committee for Responsible Medicine (and the wife of Rep. Dennis Kucinich, D-Ohio); interior design and PR expert Aniko Gaal Schott; Georgetowner and photographer Didi Cutler (wife of Ambassador Walter Cutler ); WUSA channel 9 anchor JC Hayward; cardiovascular specialist Dr. Susan Bennett; Deborah Epstein, board of directors vice president of the sponsoring Sister to Sister organization; and Diane Flamini, the Embassy of Spain's well-respected social secretary.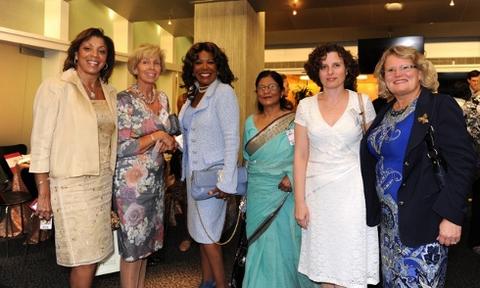 Embassy representatives included those from Barbados, Cameroon, Hungary, Singapore, Bangladesh, Turkey, Sri Lanka, Saint Vincent and Grenadines, Russia, Macedonia, Germany, Sweden, Norway, Ghana, Fiji, Poland, Israel, Bosnia Herzegovina, Cape Verde, Ireland, Philippines, Thailand and Botswana.