A Night of Celebration for Qatar in D.C.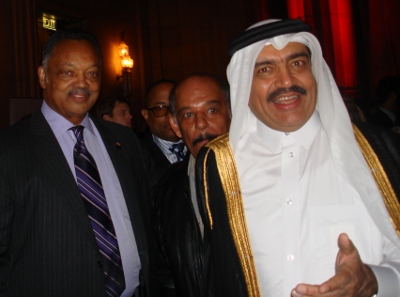 D.C. Mayor Vincent C. Gray, civil rights activist The Rev. Jesse Jackson, House Minority Leader Nancy Pelosi and Republican Congressman Darrell Issa were among the many hundreds of guests who joined Qatar Ambassador His Excellency Mohamed Bin Abdulla Al-Rumaihi to pay tribute to Qatar's National Day at the Mellon Auditorium on Wednesday.
A brochure entitled "Forging The Link with Qatar, America's Strongest Partner in the Gulf," pointed out that trade and economic cooperation has been the cornerstone of the US-Qatar relationship.
"We fully expect this growth to continue as Qatar's economy diversifies, opening a host of opportunities to American companies of all sectors," said the US-Qatar Business Council, which has offices on Connecticut Avenue NW.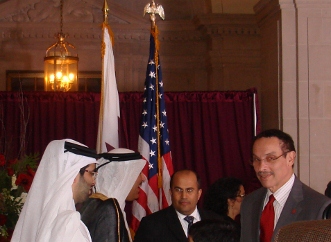 The friendship was evident. Diplomat and private cars lined a solid block of Constitution Avenue as their occupants jumped out to greet the ambassador in the reception area. The ambassador – who was appointed to the diplomatic post last February -- is fluent in Arabic, English and French.
Food station after food station served sumptuous Middle Eastern fare.
Guests included Georgetown business owners Keith Lipert and Sylvia Ragheb. Georgetown has a continuing relationship with Qatar through Georgetown University's satellite camps in Doha, the country's capital on the Arabian Gulf.