A Nifty Place To Work, Free Coffee, & Potential Link to Micro-Funding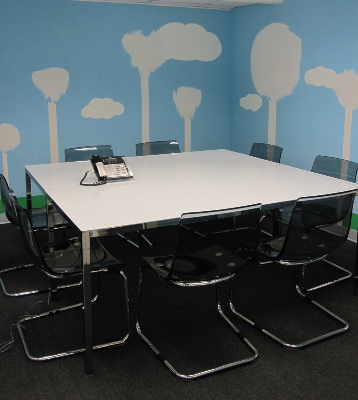 DC's newest and coolest co-working space, WorkDistrict, is open and ready for business.
WorkDistrict provides low-cost office, conference and event space from about $249 a month or $25 a day, plus operational, growth and funding resources for startups and micro-businesses.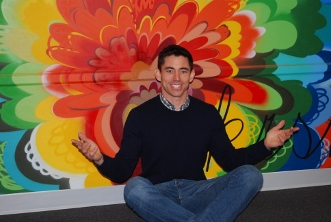 WorkDistrict is different, says co-founder Paul Ballas. "Thanks to low overhead, we're far cheaper than other co-working spaces, allowing us to support a broader range of businesses. For less than the cost of two lattes a day, our members get collaborative work space, a street address, internet access and office support."
Clients so far include the social media, financial and the tech realms, fitness, as well as other cutting edge corporations.
It is located in a former LivingSocial event space, just north of 14th & U streets NW (at 2217 14th Street, second floor). WorkDistrict offers startups and small businesses 3,000 square feet of shared and private workspace, plus a separate conference room and a huge presentation space Art by DC's top graffiti artists covers the walls. Peregrine™ coffee is plentiful, ensuring that the creative juices never stop flowing. There's 24/7 secured access that enables WorkDistrict members to work whenever they want.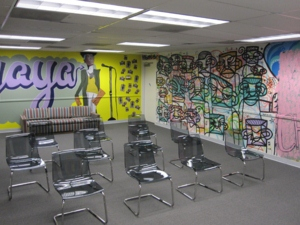 "WorkDistrict's location is tailor-made for hardworking entrepreneurs," says Ballas.
Just downstairs Crossfit Praxis serves up a tough workout, making it easy for WorkDistrict members to stay in shape without even leaving the building.
WorkDistrict members also never have to worry about finding a meal, as organic markets and some of the city's coolest new restaurants line the street outside WorkDistrict's front door.
Commuting is super easy, with the subway's green and yellow lines (13th and U) and a major Capital Bikeshare hub only two blocks away.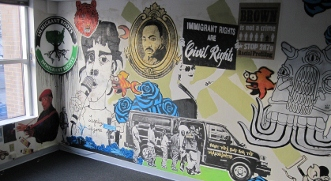 "Our culture is special," adds Ballas. "We're a membership-driven organization focused on tech, sports and other creative businesses. Membership is by application only, and new members must be approved by existing members."
"Additionally, we are the first co-working space in the country dedicated to helping its members source capital through "crowdfunding," the raising of small amounts of capital from many individuals over the web," states co-founder Patrick Menasco, a lawyer at the international law firm of Steptoe & Johnson. He also is a real estate investor.
Congress legalized crowdfunding through the Jumpstart Our Business Startups Act (JOBS Act) of 2012. The Securities and Exchange Commission (SEC) is expected to issue implementing regulations in 2013.
"With the pending SEC action, WorkDistrict's timing is perfect," says Menasco.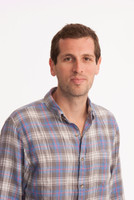 To help support its crowdfunding efforts, WorkDistrict has entered into an exclusive strategic partnership with Crowdfund Capital Advisors (CCA). CCA's principals were the driving force behind the JOBs Act and remain at the forefront of the crowdfunding movement.
WorkDistrict is open Monday through Friday, 9 am to 6 pm (including optional 24/7 access). Daily, monthly and longer-term memberships are available.
Applications and further information may be found at WorkDistrict.