Newseum goes right to The Source with Wolfgang Puck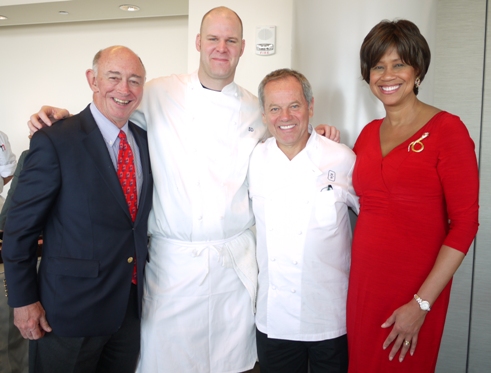 As over 60 Newseum members and guests enjoyed wine and panoramic views of the city, Pam Galloway-Tabb, Senior Vice President of conferences and special services told The Georgetown Dish, "We're very excited to have him here. For some time, we've been wanting Wolfgang Puck to do this conversation and cooking demonstration."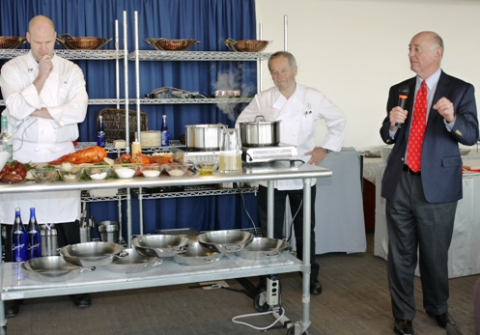 "It's been a great week," began Charles Overby, Chairman and CEO of the Newseum. "When the President asked the First Lady where she wanted to go for her birthday Monday, she said The Source. (pause) And luckily they were able to get reservations." Also during the week: Eisenhower family members, a Supreme Court Justice, and a special celebration for the Chinese New Year were equally lucky.
"When we were coming up for an idea for a Newseum restaurant, and knowing we had to tear down the existing building, Wolfgang Puck expressed interest. The idea of having a restaurant of Wolfgang Puck ... Such a good fit," Overby said.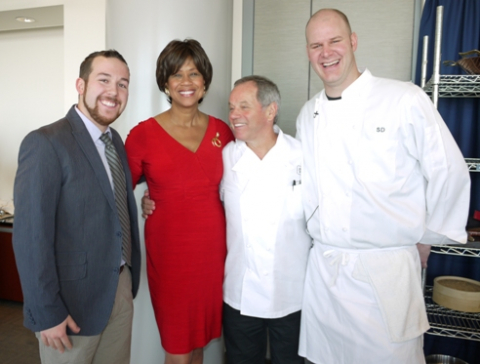 Puck agreed. "We're very happy to be here at the Newseum." The world-class chef, restaurateur, cookbook author, and television personality regaled the crowd with tales of his culinary career.
"I'm from Austria … we all speak like this in California." After recovering from his first restaurant apprenticeship firing ("You're good for nothing … go home.") Puck went on to Les Baux-de-Provence and the Hotel de Paris in Monte Carlo. In the U.S., after briefly living in New York and Indianapolis, where he learned "to cook a lot of well-done steaks" and got his green card. "I was the only one in line," he said, becoming the executive chef at the esteemed Ma Maison in Los Angeles before opening the first of many flagship Spago restaurants.
"Every week Johnny Carson would buy 10-12 pizzas and freeze them at home. Maybe I should try that," Puck said. And when he did, "it was surprisingly good, so I started a frozen pizza company."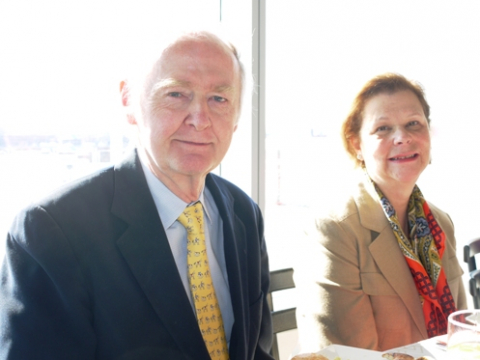 During a Q & A session, Puck on why he loves D.C.: "Great access to great ingredients and all the lobbyists have to go out to eat." His secret: "We try to buy the very best ingredients and try not to f#@k them up."
From Chinois, his Asian-fusion Las Vegas restaurant, Puck tapped Scott Drewno as executive chef for The Source by Wolfgang Puck. Chef Scott was recently named 2010 DC Chef of the Year at the 28th annual Rammy Awards.
As he held up a lobster, Chef Scott and his Sous Chef Wolfgang began to demonstrate the preparation of lobster egg drop soup with lobster and shrimp wontons. Start with "the trilogy of Chinese cuisine: ginger, garlic, scallions … and lemon grass. And add any dry white wine like Pinot Grigio, to balance the acidity." Served in espresso cups, there were samples for all.
What followed was a sumptuous buffet feast of striped bass, lamb pastrami, Peking duck, pork pot stickers, maki & nigiri, a selection of signature pizzas, poached pear Roquefort salad, Chinois style salad, braised short ribs, rabbit roulades, cheesecake cones, linzer diamonds, and Wolfgang Puck's Sacher Torte.
After lunch, Puck graciously spoke with admirers and signed copies of his 2008 cookbook, "Wolfgang Puck Makes it Easy."