A New Winery in Maryland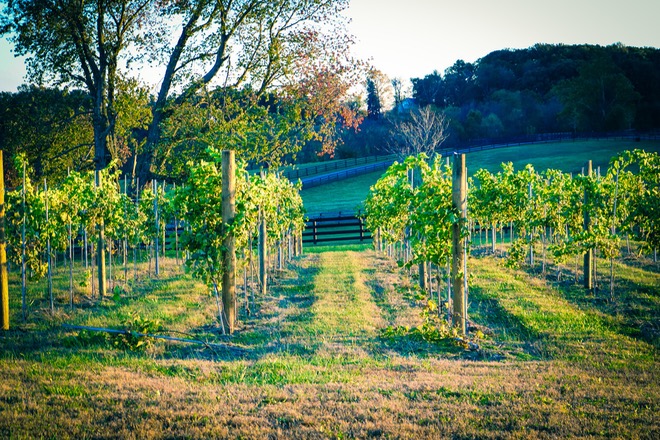 It is always exciting when a new venture comes online and when it's a vineyard you know it has taken a long time and lots of love to get it right. On Saturday, April 29th Hidden Hills Farm and Vineyard is inviting the public to their grand opening and it seems they have gotten it right.
Robin Sagoskin, the owner of the vineyard, has worked hard to turn her dream into a reality. While Hidden Hills is a beautiful 100 acre horse farm turning land into a successful vineyard wasn't easy. Beginning on April 29th the public is going to be able to cast their votes as to how successful Robin has been. My prognosis is they will be happy with the results.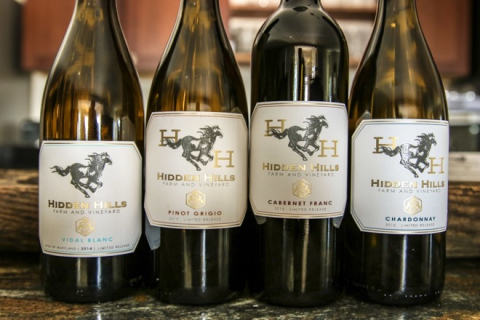 Maryland has not always been known as the home of fine wines but with hard work and dedication Robin may be helping to change that image. Robin envisioned a woman-owned vineyard to be the perfect complement to the rolling green hills of the Frederick County farm and her passion for wine. Robin said "Hidden Hills Vineyard was born because I wanted to grow our own grapes in order to produce notable wines." She selected the varietals very carefully staying true to the climate and the region. She added "Our wines are crafted in small blocks, showcasing their best characteristics with a refined complexity."
There are a selection of wines ready for tasting and purchase. They include; A 2015 Chardonnay described as a bright, fresh and clean aromatic wine with notes of lemon zest and hints of candied pear. Lemon chicken with risotto would be the perfect complement to this unoaked Chardonnay. Produced with all-natural yeast. A 2015 Pinot Grigio that Robin suggests has a delicate apricot color, created by allowing skin contact for several hours before separating the skins and seeds from the juice. This wine has a bold structure that stands up well to intense flavors. Lovely stone fruit and honeysuckle notes can be detected after the first sip tickles the front palate. A perfect pairing with Thanksgiving and holiday dinners, as well as your favorite barbecue. Produced with all-natural yeast. A 2014 Vidal Blanc which was their debut wine. According to Robin it is a Golden apple and a rich, round, yet soft mouth feel best describe this Vidal Blanc with no residual sugar. On the finish you will detect mineral, flint, and chalk. Well balanced, this lovely wine has enough acidity to bring out the natural fruit flavors. Produced with all-natural yeast. And finally a 2015 Cabernet Franc. Robin refers to this as our velvet wine because of the silky texture and soft well-integrated tannins. Notes of cranberry, lavender, and a hint of walnut come together in this Cabernet Franc, and then linger with savory pepper. Serve with a rosemary spiced ribeye roast. Robin also suggests that you don't drink it all now. You can put this bottle away as it will continue to improve and become more elegant with time.
The Grand Opening will be from 2:00-5:00 pm and along with great wine visitors will be entertained by jazz pianist Christopher Linman. There is a $5 general admission fee and tickets are available at Hidden Hills. The vineyard is located at 7550 Green Valley Road, Frederick, MD 21701.