New Skating Rink Adds Amenity to Waterfront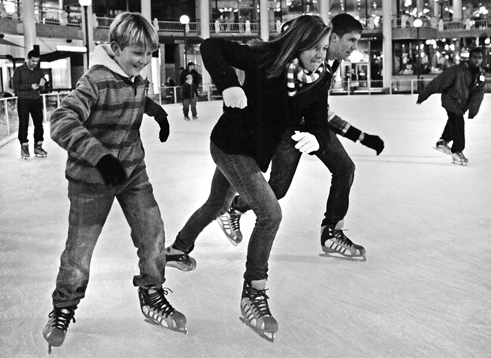 By Katie PearceCurrent Staff Writer
The Washington Harbour has a prominent new centerpiece this winter: an outdoor ice rink, the largest in the city and one of few in the region.
The 11,800-square-foot rink opened to skaters last Monday and will celebrate its formal grand opening Saturday.
The seasonal feature, set against the Potomac River in Washington Harbour's lower plaza between 3000 and 3050 K St., is expected to draw new crowds to an area that's more known for its warm-weather appeal.
Nick Cibel, whose family owns both Nick's Riverside Grill and Tony and Joe's at the complex, said he's already seen an impact from the rink's first week. "It's a festive atmosphere," he said. "People are coming down here at times that they wouldn't have normally come down."
The holiday weekend brought "lots of business," said Marissa Marwell of Rink Management Services Corp., which oversees operations of the rink and runs a new skate-rental shop and locker room.
"Typically this area doesn't have a lot going on in the winter," Marwell said. But the rink "drew some attention … and hopefully it will continue."
Beth Miller, an architect who helped design the rink for the Gensler firm, said this effect is why the rink exists. Washington Harbour "is a very public, very vital space in the summer. … But in winter, it's sort of a dead zone." By adding the rink, she said, "we anticipate that that space is going to become very energetic pretty much all year."
A week after opening, the rink was serenely quiet around lunchtime this Monday, as the restaurants nearby started to open. A sole skater had the sunny patch of ice to himself.
As he untied his skate laces later, Capitol Hill resident John Hillebrand said this was actually his second time skating that day. The first had been at Gardens Ice House in Laurel, Md., where he trains in competitive ice dancing.
But his visit to Washington Harbour, Hillebrand said, "was for fun." He said it was a nice contrast to go from "skating indoors in a warehouse" to gliding outdoors "with a gorgeous view of the river, and the Kennedy Center, and the bridge."
As Hillebrand left, a group of teenagers took to the rink with wobbly legs, while a few tourists in the upper plaza above snapped pictures.
Cibel said his restaurants have responded to the rink with a few changes — offering hot chocolate and cider, for example, and accommodating more patrons who want to stay outside.
The rink already brought a lot of outdoor customers last week, he said. "We were packed. Every table outside Nick's was full."
Cibel has added outdoor furniture and blankets to Nick's, and later this winter plans to update the outdoor bars at Nick's and at Tony and Joe's to include heating elements.
Farmers Fishers Bakers has also installed heaters to warm patrons at a dozen or so outdoor tables by the rink, while it offers winter drinks like hot toddies inside.
Asked whether the rink could inspire any new businesses or concession stands, Joe Sternlieb, executive director of the Georgetown Business Improvement District, said he thought the existing network already works well. On the plaza's upper level, he pointed out, "you've got the Starbucks, you've got a gelato place, you've got a sandwich place" — casual options for visitors who don't want to sit down to eat.
Sternlieb said the idea is for the rink to be "like Rockefeller Center … where people stand above and look down if they're not skating."
The rink — which is actually larger than the one at Rockefeller — was part of a $22.5 million makeover of the Washington Harbour complex. The project was conceived after MRP Realty and the Rockpoint Group purchased the mixed-use site in June 2010.
Complications came in the form of a major flood that swamped the lower plaza and parking garage in spring 2011, forcing some restaurants to shut down and requiring extensive repairs.
About a year and a half later, that renovation is now nearly complete, according to Washington Harbour spokesperson Joshua Lynsen. The remaining work will address a few small details as well as the opening of a new restaurant.
Even before the flood, the ice rink was a central part of the vision for the lower plaza. The owners asked architects to revitalize that space, Miller said — considering its significance not only as an anchor for Georgetown, but also as a highly visible neighborhood spot.
The rink was imagined as a cold-weather replacement (roughly from Thanksgiving to cherry blossom season) for the plaza's central fountain. At the start of each winter, workers will deconstruct the fountain, leaving its tower intact, and a truck will arrive with a kit of parts to build the temporary rink.
Both the cooling of the ice and storage of the Zamboni ice-resurfacing machine presented puzzles for architects, Miller said. They ultimately found way to refrigerate the rink through above-ground pipes and store the machine within the fountain tower.
This Saturday's "grand opening" — which will include performances, a parade and artistic lighting — will take place from 4 p.m. to 7 p.m.
Public skating hours are from noon to 9 p.m. Monday to Thursday, with expanded times on the weekend (including hours until 10 p.m. on Friday and Saturday). Among other options, the facility offers skating lessons and a "Rock 'n' Skate" event on Saturday nights.
More details are available at thewashingtonharbour.com/skating.
This article appears in the Nov. 28 issue of The Georgetown Current newspaper.