With New Site, Pottery Studio Comes Full Circle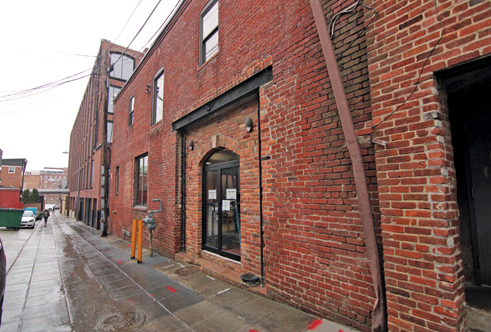 By Mark LiebermanCurrent Staff Writer
An established Northwest pottery studio hopes to open and host classes at its new Georgetown location next month, more than a year later than owners had planned thanks to utilities challenges and a contentious relationship with the property owner.
Hinckley Pottery has been offering classes, workshops and events, along with a robust collection of handmade artwork, for more than four decades in Northwest D.C. — moving its one studio from Georgetown to Foggy Bottom, and then Adams Morgan. The studio hopes to begin its next chapter just a block away from its original Georgetown home, but the road to opening has been a long one.
In late 2012, owners Jill Hinckley and Susan Weber learned they would have to move the studio from 1707 Kalorama Road NW. They had shared that building with the health care nonprofit Mary's Center, which wanted to use the space to expand its behavioral health services. Several real estate agents and neighborhood visits later, the owners settled on a new home — bigger than their older one and less expensive than many alternatives — at 3132 Blues Alley NW in Georgetown.
"It was a shell, basically. It didn't have anything," Weber said. "It had a roof, it had walls, and that's it."
Weber and Hinckley signed a lease there in July 2015, hoping to start construction by September and move in by the end of last year. But September came around, and the landlord hadn't completed mandatory work on water, gas and electricity. What followed, as Weber describes it, was a slow and at times painful process of urging the landlord and property manager to move forward on matters like hiring a contractor and replacing a key part of the sprinkler system.
Part of the issue, Weber says, is that she has never met or been in contact with the property owner — only the property manager, Frank Gittleson of Empire Leasing, who has been communicative, she said. While Weber says Gittleson has insisted that he wants the studio in the building as much as the owners do, she says the owners have reneged on their promises at times. Gittleson declined to comment for this story.
Weber and Hinckley faced an additional challenge a few months ago when the landlord threatened to sue for the cost of the utilities work that Weber believes the landlord had a responsibility to handle. That news, plus the mounting costs caused by the delays, led Weber to solicit donations through an online GoFundMe campaign. Both she and Hinckley had already refinanced their homes and tapped into their retirement funds, but the money wasn't enough.
"All we want is to open our pottery studio, start teaching again and get our hands back into the clay — but to do this we need your help!" Weber wrote on the campaign page.
Since the campaign was posted on Oct. 10, 191 donations totaling more than $42,000 have poured in. Some donors wrote notes, including Jane McAllister, who contributed $1,000.
"I hope you and all your weirdos, including me, are back in studio soon!" McAllister wrote. "You give so much to all who pass through your door — we've got to keep that door open."
The Hinckley owners and the landlord have since settled out of court on their dispute over rent and the sprinkler expenditure, Weber said. GoFundMe donations will help cover legal fees and the costs incurred in the compromise, as well as future expenditures.
Weber says the influx of support has been encouraging. "The stuff with the community has been strong and very sustaining," she said. "It's been otherwise a very depressing situation."
Despite the difficulties, the Georgetown location remains ideal for them, Weber said. Taxes are lower because the building isn't located on one of the main commercial corridors, and the building is just a block away from Jill Hinckley's first studio. The space is also much bigger than the Kalorama location, with higher ceilings, larger windows and more room for classroom space. Locations they looked at in Shaw, U Street and the old Hecht's Warehouse in Ivy City weren't as enticing as this Georgetown spot, according to Weber.
Weber said she's all the more eager to reopen after seeing the success of the GoFundMe campaign and hearing community demand for Hinckley Studio's offerings.
"We love the pottery, love doing it. We couldn't imagine just sitting at home and not doing that," she said. "We decided there were too many people that counted on us, and we wanted to have a community for them."
Meanwhile, Mary's Center plans to begin construction on the renovation of 1707 Kalorama Road NW this month and finish in March or April, according to spokesperson Lyda Vanegas. The new space will have room for three more therapists than before.
Construction was originally planned to begin shortly after Hinckley Pottery left, Vanegas said, but several other projects in Fort Totten, Petworth and Silver Spring got in the way. "We had too many projects at the time," Vanegas told The Current.
This article appears in the Dec. 14 issue of The Georgetown Current newspaper.