New restaurant poised to move into K Street space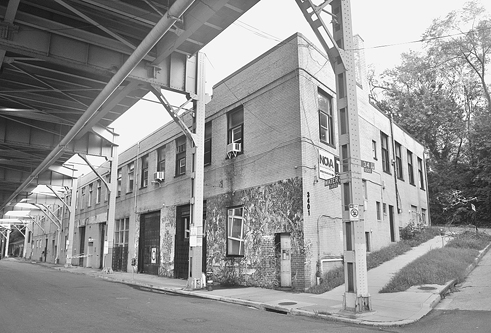 By Brady Holt...Current Staff Writer...
After a lengthy delay, a new restaurant may be coming soon to a largely empty stretch of K Street below the Whitehurst Freeway.
The owners of the planned Malmaison restaurant and the Georgetown advisory neighborhood commission have nearly finalized an agreement requiring the restaurant to provide a police detail at the site, commissioner Bill Starrels said yesterday.
According to an Alcoholic Beverage Control Board notice posted Aug. 27, 2010, Malmaison will be a "European dessert bar and lounge specializing in gourmet pastries, refined hors d'oeuvres and exotic cocktails, with DJ and dancing."
In the application, Malmaison was seeking permission to operate until 2 a.m. weeknights and 3 a.m. weekends at 3401 K St., where the road is also commonly known as Water Street. The application states that the restaurant will have a capacity of 81 seats and 241 total occupants.
The owners and their attorney, Stephen O'Brien, could not be reached immediately for comment, but Citizens Association of Georgetown board member Karen Cruse said O'Brien told her last week that Malmaison had not changed its requests since that original application.
Residents of the nearby Water Street Condominium raised concerns about noise and other disruptions from new late-night activity in the area. The neighborhood commission filed a protest last year against a liquor license for the property absent a voluntary agreement between the community and the business, said Starrels, whose single-member district includes the Malmaison site.
In the meantime, the District reduced the level of funding it contributes to reimbursable police detail programs, in which uniformed Metropolitan Police Department officers are paid to provide overtime security. Starrels said the shift complicated negotiations: Neighbors were unwilling to support an establishment with liquor and live entertainment without the police protection, he said.
"It's at the very end of Water Street in an area that is not typically a busy area. There's nothing else down there," said Starrels. "We just think that a reimbursable [detail] is vital to keeping things orderly down there."
Starrels said the remaining negotiations for the voluntary agreement appear to be about wording, not substance. "We're just waiting for the language to be finalized at this point, about the reimbursable detail," he said.
The owners of Malmaison also operate Café Bonaparte at 1522 Wisconsin Ave., among other D.C. restaurants.
This article appears in the Sept. 14 issue of The Georgetown Current newspaper.