New Owner Takes Reins at Beloved Scheele's Market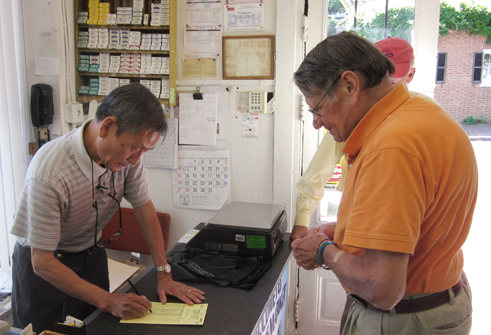 By Deirdre BannonCurrent Staff Writer
At Scheele's Market, the longest-running corner store in Georgetown, the future looks bright. A new owner is taking over the business from Shin and Kye Lee, who are retiring after operating the store for more than 20 years. And East Village neighbors and loyal customers are poised to celebrate the success of their four-year effort to help save one of the last independent markets in the neighborhood.
"The community is jumping," said Malcolm "Mike" Peabody, who led the effort to secure the store's future by establishing a nonprofit, Friends of Scheele's, with Marilyn Melkonian. "We were buoyed when the new owner was named. Scheele's is essential to the neighborhood — it holds the community together. After working on this for four years, we can now relax."
That work began in 2008, when the building at the corner of Dumbarton and 29th streets, owned by the Scheele family for 118 years, was put up for sale. Neighbors were instantly worried that a new owner would raise rents beyond the Lees' ability to pay, or convert the property, which now has an apartment on the second floor, into a potentially more valuable single-family home.
A small group of neighbors first tried to protect the store by collectively purchasing the building, but the offer wasn't accepted. Then Mark Teren, a local developer who has flipped several Georgetown properties, submitted a successful offer, but the deal fell through.
In February 2011, Jordan O'Neill, a real estate investor and former banker, purchased the property. Friends of Scheele's successfully negotiated a covenant with O'Neill to keep the first floor as a grocery store for the next 15 years, even if O'Neill sells the property.
In exchange, Friends of Scheele's agreed to pay O'Neill $70,000 for the covenant. Some of the funds will be used for store renovations.
"Many people don't understand why we're paying Jordan," said Peabody. "He's giving up his right to make much more money on the property by turning it into a single-family house, and we're getting something of value in return — at a very good deal."
"If this market were to be closed, we couldn't open a new store because zoning laws wouldn't allow it," he added. "Scheele's was grandfathered in, and we're very pleased that Jordan agreed that maintaining the store is very important to the community."
Likewise, O'Neill was glad to be a part of the effort.
"I'm very pleased that the neighborhood has been so gracious in helping to preserve this East Village landmark," he said. "I'm proud that we will keep it as a general store selling fresh produce, beer and wine."
While the agreement with O'Neill offered some relief that the store would remain, the Lees, meanwhile, were considering retirement. That issue put the fate of the store in limbo again, until Dong Kuk Kim emerged as the new operator.
As part of the transition, Kim has worked in the store alongside the Lees over the past two weeks. They introduced him to regular customers, helped him get to know the inventory — and taught him how to use their old-fashioned store-credit system, in which some customers' receipts are tallied on sheets of colored card stock and filed next to the cash register. Those customers typically pay their accounts monthly.
Although the Lees' last official day in the store was Friday, Shin Lee said he would periodically stop by to see how Kim is getting on.
Retiring was not an easy decision for the couple. When asked what the community support has meant to him, Shin Lee got tears in his eyes.
"It is very touching," he said. "They accepted us, and we will miss them. We thank them for everything they did for us."
In a one-page letter that will be posted in the store, Kye Lee wrote, "Scheele's was more than a business; it was part of our family. … We can never thank you enough for all your unending show of love and support for the little corner store. You all have become a part of our lives and we will never forget the friendship we've found here."
Kim, who formerly owned a deli in Silver Spring and had been looking for a new business for several months, said he's very excited to take over for the Lees. He said he loves the neighborhood and has found the customers to be very welcoming.
"I want to keep the tradition of Scheele's Market going," he said. "I plan to serve the neighborhood with good products and bring new ones in."
In addition to renovating the store, Kim would like to add sidewalk seating outside.
Kim would like to operate Scheele's Market for the next 20 years or so. "I hope to make my American dream come true here," he said.
Friends of Scheele's will be hosting a block party with live music and food outside the store on June 21 from 6 to 9 p.m. (rain date June 22). According to Peabody, the party was organized to say farewell to the Lees, to welcome Kim and his family to the neighborhood, and to raise funds for the covenant.
So far, Friends of Scheele's has raised approximately $20,000 of the $70,000 needed. Peabody said the group didn't want to make a big fundraising push until a new owner was in place. Tickets to the event cost $75.
For more information or to make a donation, email Malcolm Peabody at mpeabody@ptmanagement.com.
This article appears in the May 16 issue of The Georgetown Current newspaper.