A new Loft in Georgetown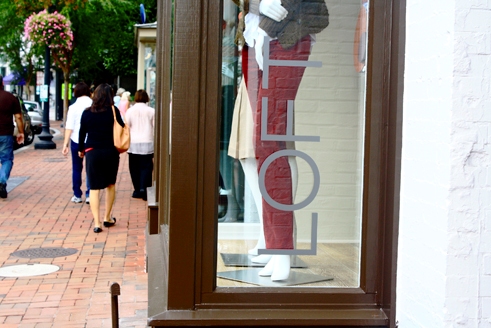 "Ooo—I love Loft," a young girl remarks to her friend as the two saunter past the stark white exterior of Georgetown Loft. Neither stop to enter, neither pause to peer through the store's windowpanes. But why would they? It's Loft; the girls know what to expect—a modern, classic, elegant store with styles for women of all ages and looks of women of all types.
The girls, as they dally by, seem unaware that the Georgetown Loft wasn't here last month, last week, a few days ago for that matter. Sept. 30 marks Georgetown Loft's grand opening-- a grand opening that featured an exterior lacking of any mention of the grand opening. In fact, the store seems to blend seamlessly in with the row of other designer chains along Wisconsin Avenue.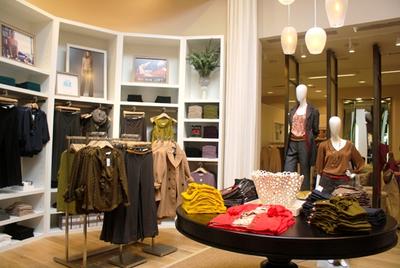 So why Georgetown? "Georgetown is seeing a new face and we just wanted to be a part of that. This one is a new concept," store manager Khalilah Branch said. When asked to expand on the concept, however, a general response was all the store manager provided: "A new, renovated store to fit our casual lifestyle. A lot of different items that she can pick to lift her lifestyle for work, play, going out, whatever it is. We want to be a part of that in Georgetown."
The concept refers to more than just the merchandise (which, when asked, is the same merchandise that can be found at any Loft store) and the personnel (who are "stylish, fun, genuine"). It's a fresh angle that also targets the store's layout; Unique to the Georgetown Loft, the store features brick walls, light wood flooring and minimalist styled, white fittings. It's a modern, polished look that mimics the casual, elegant style of Loft's merchandise.
Well, if it's all about the fresh, new "concept"—whatever said concept may be—one would assume the concept would target a specific range of customers. "We're still trying to figure that out," Branch said when asked what type of clientele Georgetown Loft is looking to attract. "We know that she's fashion forward, we know she's looking for items that are going to fit every aspect of her lifestyle," she added.
… Like every other chain store in the Georgetown area. But good start, Loft.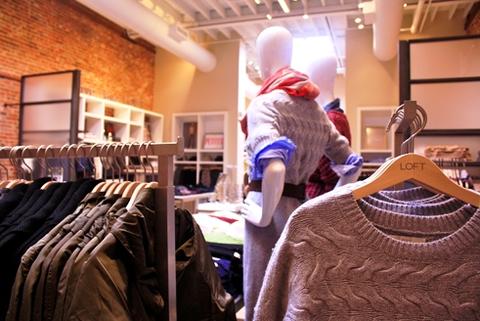 "Whether that's a student, a young professional or a young busy mom-- we feel like we can fit all three of those categories. And being in such a great area that has always had a longstanding reputation of having great shops, great restaurants and really overall just a great place to be. Loft definitely felt that this was where we needed to be," the store manager said.
What should customers expect? "Great client service and a beautiful product," Branch said.
In line with its brand, Georgetown Loft features a range of clothing. Most of the merchandise follows the fall trends of burnt oranges, olive greens, dark denim and subdued beiges—It's a nice touch for those vamping up their wardrobes in time for the change in season. The store offers traditional style work dresses spiced with a spark of the Loft touch. (Would highly recommend all to try on the orange cocktail style dress with a pencil-thin, cheetah print waist belt. It's a modern touch to an elegant style—loving the look!)
And so with the opening of Loft on Wisconsin Avenue, the Georgetown area, once again, gains a chain's classic standard style. The store's front reads "Loft Loves Georgetown."
The questions that remain—Does Georgetown love Loft? And—What is Georgetown?
The store is located at 1239 Wisconsin Avenue.