New Georgetown Guide Available Now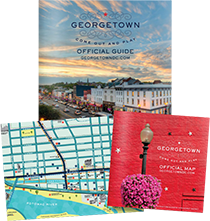 The Georgetown BID is pleased to announce the all new official Georgetown Map and Guide!
Both stylish marketing pieces are designed to guide tourists and locals alike to all that Georgetown has to offer and are being distributed to hotels and tourist centers across the city. Check out the Guide on the website here; the online Map, which will be interactive, will be available soon.