New Generation Brings Charm to Georgetown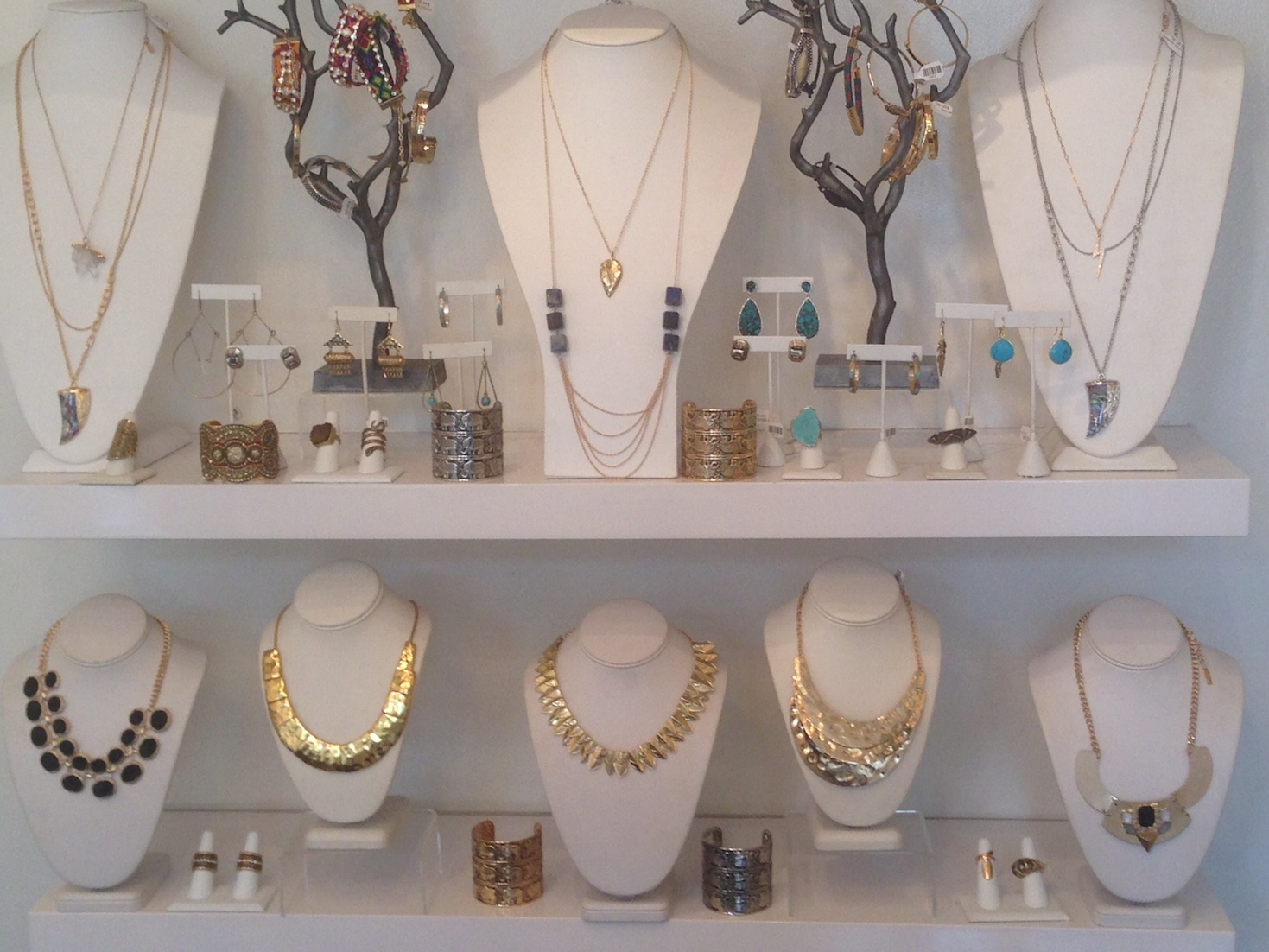 While her classmates in high school were hanging out at the mall, watching TV, or playing computer games, Jaclyn Mason was already learning how to display Paris fashions and run a cash register. On weekends and afternoons – almost every minute she didn't have to be in school– she was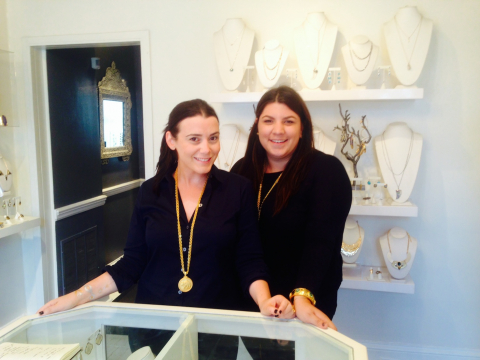 helping out in her sisters' then-new M Street boutique, Wink. It was a high-end, independent fashion shop that captured the attention of women from P Street to Potomac.
Eleni Alafoginis, barely a teenager, also felt the pull of Georgetown as she discovered clothes, make-up, and the other acoutrements of adulthood. "Georgetown was so much cooler than Montgomery Mall or Tysons Corner," she says. "Once I discovered Georgetown, I had to be there. In the boutiques."
Now, these D.C. natives who first learned about fashion as pre-teens in Georgetown are creating it here. In their own store -- Charm in Georgetown, one of the few high-fashion, independent jewelry boutiques in the region.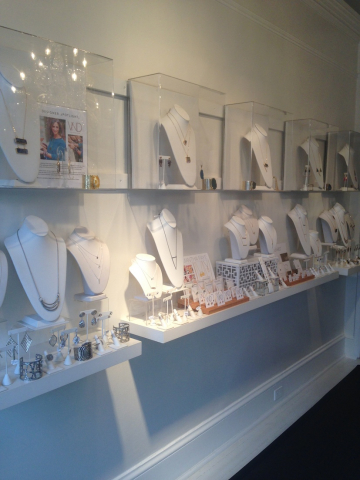 But understand – Mason and Alafoginis don't just fill display cases and run a cash register, this is a studio where they live and breathe their craft, jumping out of bed each day to create unique looks for the diverse array of clients who climb the stairs to their bright white canvas of a store.
"We realized there was no specialty costume jewelry shop in Georgetown or Washington, period," says founder and owner Mason. "We wanted to contribute to the fabric of the city by bringing something different to the retail landscape. It's accessible luxury – making a statement without breaking the bank."
"We sell a look," continues Alafoginis, who learned merchandising in New York at Max Mara. "It looks high-end, but it's affordable."
Maybe that's why the store draws congressional staff to college kids, to on-air TV talent from across the region.
"We have regulars who sit down and make themselves at home," Alafoginis says,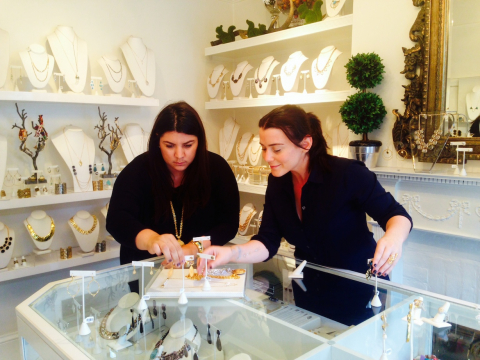 pointing at two comfortable chairs nestled amid jeweled sandals and scarves.
"We tell them to come in after they've gone to Cusp or Hu's Wear to buy a new shirt or dress," says Mason. "We can tailor jewelry specifically to a special outfit or an individual customer to give them a unique look."
Mason looks and listens closely to each customer. A woman asks if a coin pearl necklace can be shortened and paired with earrings. Mason thinks for a minute. "You need baroque pearls," she says, thumbing through her book of hand-made jewelry by designers she personally knows. Within minutes, she has sketched out a unique look for the client, who is thrilled at the result – and the low cost.
In the low-margin and highly-competitive retail industry, it is often hard to find sales associates who are available to offer meaningful personal attention while juggling a multitude of duties.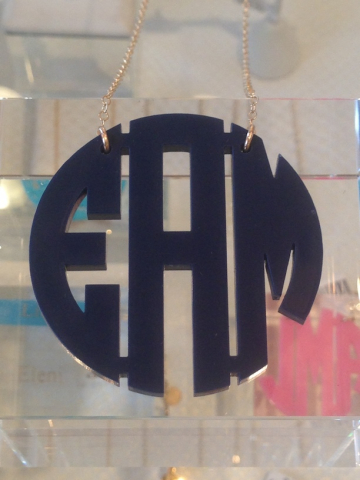 At Charm, each customer is treated like a special guest, and made to sparkle individually via Mason's and Alafoginis's sheer talent, taste and determination to offer high-end looks at H&M prices.
They are savvy buyers, with skills honed over decades despite their youth. But to Mason and Alafoginis, it's not even work. They get visibly excited hunting down the latest looks at shows in New York and in new creative hubs across the country. "We get a rush," says Mason, who designed the all-white store to display gems and glitter like tiny sculptures in an art gallery.
And they are survivors. As the march of national retail chain outlets continues down M Street, Charm opened in the depths of the Great Recession in 2010 and is going strong, with a second store now in Bethesda.
Mason says running the business can be hard given market volatility and the wide range of responsibilities from payroll to bookkeeping to cultivating new designers.
But she and Alafoginis do it with elegance and style. Charm is one of Georgetown's true gems.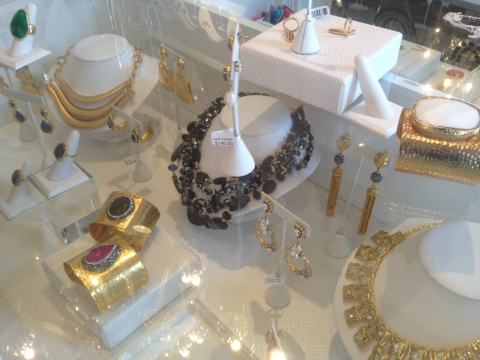 Charm is at 2910 M Street.
Featured artists at Charm:
1. Roni Blanshay -the New York-based based designer who offering bold looks. Roni's earrings are a hit, with some customers building large collections.
2. Julie Vos - New York-based designer of classic gold-based collections with a variety of semi-precious stones. Popular for cuffs, earrings and necklaces.
3. Jennifer Zeuner Jewelry – high-quality gold-plated monogram necklaces and delicate layering necklaces. Very "NY/LA" looking items. Trendy, edgy and young.
4. Moon and Lola - design team from Apex, NC who produce acrylic monogram necklaces and jewelry. For the prepster with an edge!
5. Valerie Nahmani Designs – Bethesda-based designer who uses all natural stones (druzy, agate, amethyst) For the super edgy boho-chic girl.
6. Allie and Bird (designed your pieces) - Atlanta based designer. Super-bold jewelry, uses all types of pearls and semi precious stones. Each piece is unique and tells a story.
7. Dogeared – California-based brand, nationally known for delicate gold and silver necklaces. Each piece is displayed and sold on a card with a story. Super popular for layering and gifts.
8. Charm Jewelry – a signature line of super trendy costume pieces. Everything from long tassel necklaces to neon sparkle baubles that will get you from the work day to a night out on the town with your girlfriends. All items are under $100.00. Affordable luxury!!!!